College Football Betting Sites in the US
If you're looking for college football betting, you're in the right place. The legalization of online sports wagering has made it much easier to bet on NCAA games and we have all the information you need.
Find out everything to know about wagering on NCAAF, what the main bet types are, and the best site to bet on college football at.
Best College Football Betting Sites
All NCAA football betting sites are tested against distinct criteria to ensure fairness and transparency when it comes to recommending sportsbooks.
Some of the factors our team of betting experts use include value of promotions, the quality of the odds, and which payment methods are available for deposit and withdrawal.
One important aspect that all our recommended college football sites share is that they are licensed in the US, ensuring they are legally allowed to accept bets and follow state laws.
College Football Betting Bonuses
Almost every legal US betting site offers college football bonuses for you to get stuck into when you register for a new account, with the most popular ones being free bet bonuses and matched deposits.
The best sites to bet on college football also have offers and promotions for registered customers to utilize whilst betting on NCAAF. Ideally, you should look for ones that reward you for placing bets you would have done anyway, such as with a free bet or boosted odds.
You should be on the lookout for bonuses that not only give you the most money to play with, but also have friendly terms such as no wagering requirements and 100% match your deposit.
College football betting bonuses
| | |
| --- | --- |
| Best college football betting free bets | |
| Best college football reload bonuses | |
| Best college football live betting promos | |
| Best college football boosted odds | |
BetMGM is one of the best college football sportsbooks around for free bets, giving customers the chance to get rewards for placing NCAA football wagers as usual.
Free bet promos at BetMGM are common across all sports, including college sports, and their One Game Parlay Insurance is the headline NCAA bonus.
This particular free bet promo refunds bettors their stake up to $50 as a free bet if one leg of their NCAA football same game parlay, provided the bet has at least four legs in it. This free bet bonus is great for all bettors as it gives new customers a chance to test out same game parlays whilst knowing they can get their money back.
Reload bonuses are not too common at US sportsbooks and it is rare that they are for a specific sport, so any that are available can be used on college football.
The best reload promos are available at FanDuel Sportsbook, who frequently offer bonuses to existing customers for depositing into their account.
These bonuses appear in the promotions section of FanDuel when you are logged in or are emailed directly to you, and the value is often between $10-$50.
Live betting is one of the most popular ways to bet and BetMGM provide in-play college football bonuses to boost your winnings potential.
Although quite rare and not available every week, BetMGM offer in-play betting boosts that can be applied to live college football bets, effectively enhancing the odds by increasing the overall return.
You only get one in-play betting boost at a time so be careful with how you choose to use it when betting on college football as it is very easy to be drawn in by the boosted returns, even if the bet itself is poor.
Caesars Sportsbook is the best for boosted odds on college football and on many other sports, so they should always be your first port of call when looking for this type of bonus.
The great thing about Caesars is that their boosts are on both single games and parlays, and they frequently have at least three different ones available for every NCAAF weekend.
For example, Oklahoma State Cowboys, Toledo Rockets, BYU Cougars & Wisconsin Badgers all to win is boosted from +700 to +800, increasing your returns compared to if you put the parlay on normally.
Top College Football Betting Apps
If you like to use your mobile to bet on college football, then fear not as every sportsbook we recommend has mobile betting capabilities.
The best sites to bet on college football at all have iOS and Android apps to make it even easier, each of which we have tried and tested to ensure only the top ones make our list of suggested NCAA football apps.
FanDuel Sportsbook is one of the leading college football betting apps available because of how simple it is to navigate and place bets on, meaning you aren't wasting any time.
Getting to the NCAA football section is simple as tabs at the top of the app allow you to scroll to popular sports, or the "All Sports" button at the bottom takes you to the full list.
One of the great things about betting college football on the FanDuel app is that markets available for early cash out are denoted before you place the wager. Cash out values are then displayed in your open bets.
DraftKings Sportsbook is another good mobile betting app for college football as although the app itself is prone to occasional crashes, their NCAAF offering is too good to exclude.
The college football odds on DraftKings are amongst the best out there whilst their market range is also strong, providing bettors with lots of choice whilst staying within state rules on college sports betting.
There are also regular college football promos available at DraftKings, including their parlay boost which gives bettors an extra 33% profit on any successful college sports parlay of five legs or more.
The Caesars Sportsbook mobile app is one of the best all-round mobile experiences because of how efficiently it runs and due to the fact that it very rarely springs up common issues like needing to verify your location.
On top of the mobile app being one of the best out there, Caesars have very competitive NCAA football odds for both pre-game and live betting as well as a decent variety of markets.
Caesars is one of the few legal US sportsbooks to offer regular odds boosts on lots of sports, including enhanced college football parlays that increase your returns.
Google Play rating: 4.7⭐️ App Store rating: 4.8⭐️ Top features: Early cashout, live streaming, same game parlay

View more

Google Play rating: 4.7⭐️

App Store rating: 4.8⭐️

Top features: Early cashout, live streaming, same game parlay

Google Play rating: 4.6⭐️ App Store rating: 4.8⭐️ Top features: Early cashout, same game parlay Download the app

View more

Google Play rating: 4.6⭐️

App Store rating: 4.8⭐️

Top features: Early cashout, same game parlay

Google Play rating: 4.4⭐️ App Store rating: 4.6⭐️ Top features: Early cashout, same game parlay Download the app

View more

Google Play rating: 4.4⭐️

App Store rating: 4.6⭐️

Top features: Early cashout, same game parlay
How We Rate Sportsbooks
Our team of NCAA betting experts thoroughly review each and every sportsbook, ensuring that only the best sites to bet on college football are recommended.
Each site goes through rigorous testing on a variety of factors that determine how good the sportsbook, such as security, mobile betting, and customer service.
Most importantly, the first thing we always check is that a sportsbook holds a valid US license to accept bets in each state where they operate. If there is no license, a betting site falls at the first hurdle.
Security

Only ever register with a college football betting site that is licensed and legal in the US as this ensures it is safe to use. All the sites we recommend carry valid US licenses to operate and accept bets in each state they claim to.

Bonuses

The best college football betting sites has promotions and bonuses for you to utilize, such as free bets when you place wagers and odds boosts for specific games. NCAAF bonuses can be worth anything from $10 to $100, with the highest value ones only available for Bowl games.

Mobile apps

Being able to bet on your phone gives you the freedom to place college football bets wherever you are. A good sportsbook will have dedicated iOS and Android mobile apps that are easy to navigate and place bets on without it crashing.

College football odds

Better odds means better returns on winning bets and so for many bettors, this is the most important thing. If your preferred sportsbook doesn't have the best college football odds, they should at least be competitive.

Markets

Having a large range of markets makes betting more entertaining because it widens your betting options for college football games. Restrictions in various states mean that even the best sportsbooks only offer 30 markets for most games, especially if they operate in a state that limits markets like player props.

Live betting

Live betting on college football allows you to place wagers as games are happening and the best sportsbooks have competitive odds as well as plenty of markets. As with pre-game betting, there are restrictions by location with some states not allowing in-play college betting at all.

Payment methods

Not everyone uses the same method to fund their college football betting and the ideal betting site will have a range of ways to do so, both online and in-person. At least three of PayPal, VISA, Mastercard, VIP Preferred, and Play+ is a good sign of a sportsbook worth considering.
How to Bet on NCAA Football
Betting on college football can look overwhelming when you first use a sportsbook, with so many different games to choose from and the confusing way that American odds are displayed.
Once you understand a few simple concepts, such as how to read college football odds and what NCAA bet types are available, all will become much clearer and you'll be in good stead to find the best college football bets.
Everything you need to know about betting on college football is in this section and you can use the table below to jump straight to the part you want to know more about.
College football betting explained
How to Place a Bet
The act of placing a bet on college football is actually quite straightforward, with only a few steps needing to be followed.
We've split the process into chunks to make it easier to understand, with all the steps for betting on NCAA football listed below.
One important aspect of registering for a new sportsbook is that you have to enter some personal information as part of the verification process. This is so the sportsbook complies with Know Your Customer (KYC) regulation.
The information required includes your name, address, zip code, and the last four digits of your Social Security Number. All of your details are held securely by licensed US sportsbooks.
Choose a legal US betting site
Pick one of the best college football betting sites that's available in your state and register for it by following the steps.
Find the game you want
Navigate to college football or NCAAF and choose the game you want from the list on the betting site.
Find the market
Analyze your chosen game using stats and recent form to pick out the best bet, and then decide how much to risk.
Compare odds
Have a look at other legal US betting sites to make sure you're getting the best odds, or at least very competitive ones.
Place the bet
Decide on your stake, hit "place bet", and then it will be graded as a win, loss, or push after the game.
How to Read College Football Odds
The default odds setting for NCAA football betting is American style, which is arguably the worst way to display them – especially for new bettors. Nevertheless, we're here to clear up any confusion.
Odds that have a plus (+) in front of them apply to the underdog and shows the amount you would theoretically win with a $100 wager.
If the odds starts with a minus (-), then that is how much you need to bet to win $100.
Some people prefer to use decimal odds as this is much easier to understand because it shows the amount you will win from a $1 wager, including stake.
| | |
| --- | --- |
| -110 | Wager $110 to win $100 profit |
| +200 | Wager $100 to win $200 profit |
| 1.91 | Wager $1 to win $1.91 |
| 3.0 | Wager $1 to win $3 |
-110 is the standard line for spreads and totals, which you can find out more about below, and so you'll probably see -110 about quite a lot when trying to find the best college football bets.
College Football Odds Comparison
All sportsbooks offer the same college football games but the odds vary. This is because of many factors, but most notably how much money a particular sportsbook has taken on a market.
Most prices open at around the same mark but move shorter or longer as the game draws nearer, making it important to check out a few different betting sites.
The table below displays the moneyline and spread odds for an NCAA football game between Alabama Crimson Tide and Tennessee Volunteers.
There is not much to choose on the Tennessee moneyline with FanDuel slightly worse at +225 compared to +235 elsewhere, although the same sportsbook has the joint-best moneyline odds for Alabama.
The spread offers a slightly different story. If you want 7.5 points on the Volunteers then bet365 offers the best odds at -110, whereas the best price for -7.5 on Bama is a rare +100 at DraftKings.
Interestingly, FanDuel's spread is a round 7.0 points which gives you more options. If the game ends in a tie after the spread has been applied, your bet will be pushed and stake returned.
Caesars
FanDuel
bet365
DraftKings
Home – Tennessee Volunteers
+235
+225
+235
+235
Away – Alabama Crimson Tide
-292
-280
-290
-280
Home spread
+7.5
-115
+7
-105
+7.5
-110
+7.5
-120
Away spread
-7.5
-105
-7
-115
-7.5
-110
-7.5
+100
Margin
4.7%
4.7%
4.8%
4.5%
Popular Bet Types
The best sportsbooks offer several different types of bets for you to get stuck into, although state restrictions on NCAA football betting does mean that sites offer fewer markets than the likes of NFL.
Before betting on any market, it is important to know exactly what outcome you need for the wager to be successful.
Spread
The spread is the handicap applied to the team you bet on, with the favorite starting on a negative number to balance things up against the moneyline price.
Heavy favorites will have large spreads that could require them needing to record an extremely comprehensive win to cover the spread, with some college football teams being as big as -55.5 point favorites.
Unlike in pro football, many NCAA games are predicted to be lopsided affairs so it's very common to see the top sides being at least 20-point favorites.
Spread example
Alabama are -25.5 favorites against Tennessee. For Bama to cover the spread, they will need to win by 26 points or more. Tennessee will cover the spread if they lose by 25 points or fewer, or win the game.
Totals (over/under)
Totals is betting on whether the number of points scored in the game is over or under the projection established by the sportsbook. Totals can range anywhere from 40 points to 80 points.
You don't need to bet on which team will win and it doesn't matter if one team scores all the points in a game, which makes it an appealing market if two good offenses are playing.
Totals example
Alabama vs Tennessee has an over/under of 68.5 points. A bet on overs needs 69 points or more to be scored.
Moneyline
A moneyline wager is simply betting on which team will win the game. It doesn't matter if they win by a point or by 50 points, the payout remains the same.
Heavy favorites will return very little money compared to your stake, which is why many college football bettors prefer to utilize the spread if this is the case. Moneyline may also be listed as "winner" so be cautious.
Moneyline example
Alabama are -5000 favorites against Tennessee, so a $10 wager on that would return just $10.20 including stake. Tennessee are +1500 and so $10 on them would be a $160 return if they win.
Player Props
Prop bets allow you to wager on the performance of an individual player, such as how many yards a quarterback will throw for or how many touchdowns a receiver will catch.
Some states do not allow college football player props to be wagered on so you should check to see if yours does, whilst some states allow pre-game prop bets but not in-play.
Player prop example
Bryce Young passing yards prop number against Tennessee is set at 310.5 yards and you can bet on whether he will go over or under that number.
Parlays
A parlay is a bet that has selections from multiple games in it, allowing you to win potentially larger returns than singles when you bet on college football. Every leg has to be a winner for the parlay bet to be successful.
Parlays are incredibly popular amongst recreational bettors because of how much you can win from a small stake, but remember that each leg added decreases the chance of your parlay winning.
Parlay example
A parlay of Baylor moneyline (+205), Florida State moneyline (+110), and Ole Miss -7.5 (-110) would pay out at odds of +1123, with $10 on that winning $122.
College Football Futures Betting
Futures betting is different to regular betting because it takes an entire tournament or season into account, which can give you interest in a competition if the team you bet on does well.
Anything can happen in a season so betting futures does present a large element of risk, especially if the team or player you bet on is one of the favorites. Sportsbooks are unlikely to show sympathy if you bet on a player to win the Heisman Trophy and they suffer a season-ending injury early on.
Some college football futures that are popular amongst bettors are:
NCAA Champion
Conference winner
Heisman Trophy winner
College Football Betting Tips and Advice
Now you know how to bet on college football, the next step is placing wagers and trying to find winners.
Easier said than done, of course, as there is no guaranteed way to win. Even what you think are the best college football bets aren't automatically going to be successful, but reading our tips and tricks can help you out.
It's always worth considering each of the steps below before placing a college football bet as research and analysis will almost always trump gut feel when it comes to wagering.
College Football Live Betting
Live betting opens up a whole new wealth of possibilities for wagering as it allows you to place bets whilst a college football game is going on.
Odds change thick and fast during in-play betting and so you have to be on the button if you want to take advantage of certain markets, because some are only available for a few seconds.
The great thing about live NCAA football betting is that you can watch a game on TV and bet on how players are playing, allowing you to take advantage of injuries and tactics.
FanDuel Sportsbook offers all college football games for live betting with plenty of markets available for wagering on each. At minimum, FanDuel provide 30 markets, but this does vary by state due to different rules that restrict college sports betting.
As well, there are lots of live stats on each game that are updated often to help you make the most informed bets possible. However the odds on FanDuel lock quite frequently, which can make it difficult to place wagers at good odds.
BetMGM is another strong live betting sportsbook for college football with excellent odds that are amongst the best out there, and at the very least they're competitive when not the leading price.
Combining pre-game with live stats helps bettors to make educated wagers rather than going on pure gut feel, and BetMGM make it easy to understand their live college football stats. They also give lots of useful information to ensure you have everything you need for live betting.
The main downside of BetMGM is that they don't offer as many markets as other big sportsbooks so you might not always be able to find the bet you want.
PointsBet make it easy to bet on live college football on desktop and mobile with a user-friendly layout. This means you're not wasting precious time wondering where live NCAA football betting is.
They are also one of the few betting sites to provide a live animation of the game as it happens, so you can see exactly where the ball is, what down it is, and how many yards the team in possession needs.
No site is perfect, though, and PointsBet don't have as many markets on offer for most college football games as their competitors do.
Best college football live betting sites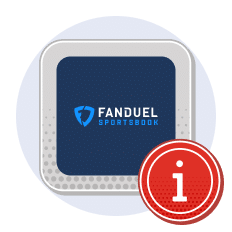 Useful live stats available
Good range of live markets
Odds lock frequently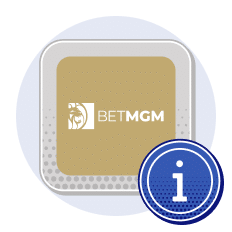 Very competitive odds
Variety of helpful stats
Fewer markets than other sites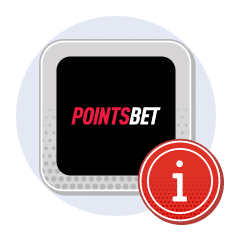 Easy to navigate and use
Animated display of game
Not many markets available
Top College Football Events
Dozens of college football games are played every weekend from August until December but it's not until the bowl games in mid-December that things really ramp up.
Each NCAA team plays up to 13 regular season games prior to the postseason and then the best colleges from each conference qualify for a bowl game, which is the most coveted prize available in NCAA.
From a betting perspective, sportsbooks have better and more frequent promotions for bowl games compared to the regular season, allowing you to get more out of wagering on them.
National Championship

The College Football Playoff National Championship is a recent development, having first been contested in 2014, but is already the most-coveted game of the NCAA season. It is by far the biggest game for betting as well, with sportsbooks vying to have the best odds available and the most attractive promotions.

Unlike during the regular season, betting sites offer bonuses worth hundreds of dollars and plenty of enticing odds boosts for both new and existing customers.

Rose Bowl

The Rose Bowl has been contested over 100 times since the first edition in 1916 and is held at Rose Bowl in Pasadena, California. It is almost always played between the winners of the Big Ten and Pac-12 conferences.

As the oldest bowl game currently played in the NCAA season, the Rose Bowl always attracts a lot of attention so it's perfect for betting sites to offer odds boosts.

Orange Bowl

The Orange Bowl is the second-oldest bowl game in college football, having first been played in 1935, and it is currently held in at Hard Rock Stadium in Miami, Florida. It does not have set conference winners that contest it every year.
Where is it Legal to Bet on College Football?
NCAA football betting is legal in every state that offers online sports wagering, but there are some restrictions compared to professional sports.
Each state imposes various restrictions to protect the integrity of NCAA football if they so choose, which means some markets are not available in every location.
As with all sports betting, the rules only apply to the physical state you wager in, not your home state or the one you registered in.
| State | College football betting restrictions |
| --- | --- |
| Arizona | No live betting; No player props |
| Arkansas | None |
| Colorado | No prop bets |
| Connecticut | No betting on CT college teams |
| Illinois | No mobile betting on IL college teams (in-person allowed). |
| Indiana | No in-play player props |
| Iowa | No player props |
| Louisiana | None |
| Michigan | None |
| Nevada | None |
| New Hampshire | No betting on NH college teams |
| New Jersey | No betting on NJ college teams; No betting on college games played in NJ. |
| New York | No betting on NY college teams, including futures; No player props on any game; No live betting |
| Oregon | No college sports betting allowed |
| Pennsylvania | None |
| Rhode Island | No betting on RI college teams; No betting on college games played in RI. |
| Tennessee | No player props; No in-play betting |
| Virginia | No betting on VA college teams; No player props |
| Washington DC | No betting on DC college teams; No betting on college games played in DC. |
| West Virginia | None |
| Wyoming | None |
College Football History
The roots of college football can be traced back to the early-1800s, however the game played back then has very little in common with how it's played now.
Scoring changes and rule changes to make football safer and more structured came partly thanks to the NCAA, who were formed over 100 years ago to oversee college football.
The NCAA is now synonymous with college football and is still very much the best way for players to be drafted into the NFL.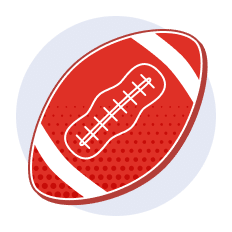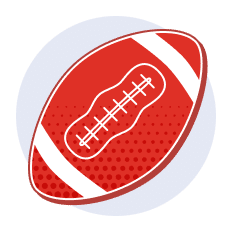 First college football game played
Rutgers University faced Princeton University in November 1869 in the first ever intercollegiate football game, although the rules were more consistent with soccer than football. Rutgers won the game 6-4.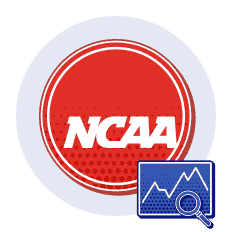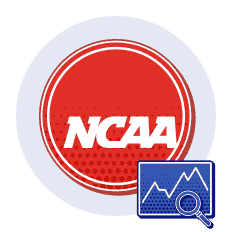 NCAA formed
The Intercollegiate Athletic Association of the United States (IAAUS) was formed in 1906 as the official rule making body of college football, and would later be renamed to NCAA in 1910.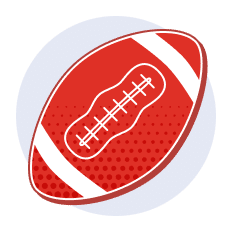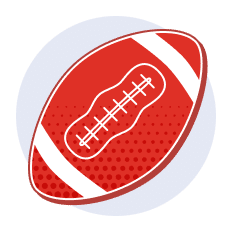 College football expands nationwide
The 1930s saw college football garner national attention and caused the NCAA to create new conferences as well as new bowl games.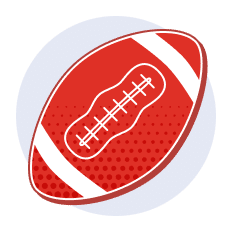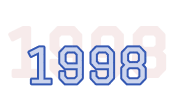 Bowl Championship Series created
The creation of the BCS National Championship Game allowed a college to be crowned overall champion of the NCAA season. Alabama was the most successful college with three victories in the Championship Game.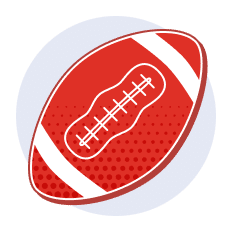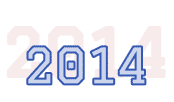 College Football Playoff replaces the BCS
The BCS Championship Game was only ever played between the top two ranked colleges, and this was replaced by the CFP which allows the top-four schools to all compete for the coveted National Championship.
Betting Sites to Avoid
It is important that you only use legal and licensed college football betting sites as this is the safest way to wager on NCAAF.
There are some popular sportsbooks that are based outside of the US and are not licensed to operate, but can accept wagers from American bettors. However, these should be avoided.
Offshore betting sites tend to have high fees for withdrawing and depositing, and crucially there is no legal recourse if they refuse to pay you out or keep your cash.
College football sportsbooks to avoid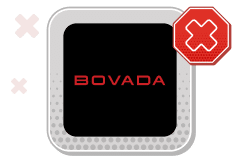 No US license
High deposit and withdrawal fees
No app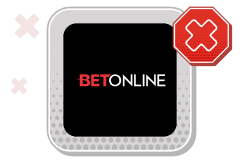 No US license
High minimum deposit
Withdrawal fees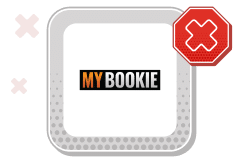 No US license
High fees on transactions
Withdrawals take over a week
Conclusion
College football is one of the most popular sports leagues in the US with the biggest teams having huge fanbases that fill the gap for people who don't live near an NFL team.
Only 13 regular season games are played but the bowl games from December onwards are when things really get serious, both for the colleges and for the sportsbooks who offer bigger promos with high value bonuses.
All college football games are available for betting, both pre-game and live, but state restrictions on wagering does vary, with some having no limitations whilst others don't allow bets on in-state colleges.
FAQs