USbetting.org's Rating Process
Our site is filled with sportsbook reviews, rankings, and all sorts of different betting guides. We use a specific process to come up with accurate and valuable information to share with our readers, but the real question is – how can you be sure that we're a reliable source?
That's when this article kicks in!
This page explains our review process in great detail and showcases how we pick the best sportsbooks to recommend. We also cover all the factors we consider when creating our rankings and explain what differentiates our system from other reviewers.
The Rating Criteria
Our experts rank sportsbooks based on the six criteria we explain below. Each of these criteria contains several additional steps, which ensures our reviewers never miss anything important.
After the final score is set and every part of a betting site is thoroughly checked, our experts provide their informed opinion. It's not all about the numbers and features, which is why we also focus on how a sportsbook feels and whether the whole betting experience is any good.
Our rating criteria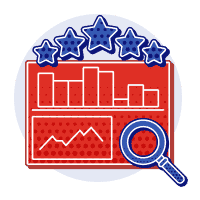 Security
Security is the first and the most important thing we check before reviewing anything else on a betting site. Only legal and licensed online sportsbooks are welcome to USbetting.org. If a betting operator doesn't have all the required licenses to do business within the law, we don't feature them on our site.
Bonuses
US Sportsbooks offer a range of welcome bonuses and an extensive selection of promotions for existing customers. We list, explain and compare all the special offers available when reviewing betting sites.
Odds and Markets
Selection of markets and quality of odds are probably two of the most important factors we consider. They directly affect your potential profits, so learning as many details as possible is always worthwhile.
Apart from the odds and markets, we also examine other factors that affect the betting experience, such as live betting, cashback, and other betting features.
Mobile
Every decent sportsbook in the US offers bespoke betting apps for iOS and Android platforms. Our reviews show how to get these apps and everything they offer regarding odds, markets, bonuses, and betting features.
Payment Methods
Payment methods are another important factor to consider when choosing your next online sportsbook. When picking the most suitable banking option, you need to think about deposit limits, withdrawal times, and even fees.
We list all the available payment options and point out the most convenient ones. You should also think about security, but luckily, all the sportsbooks and payment methods we recommend are tested and 100% safe.
Support
Customer support is your direct connection with the sportsbook, so it must be quick and reliable. That's why we check response times, as well as the channels you can use to reach them. Since most bettors use live chat support, we focus on it the most, apart from checking email and phone availability.
Why Trust Us?
Our strict review method allows us to make as unbiased sportsbook reviews as possible. This means that everything you can read on our site is fact-checked and backed with serious research.
We also provide an expert opinion on the subjects like the user experience and the overall feel of a betting site. But even in those cases, we try to be objective and explain our claims.
Below you can take a look at a few more reasons why you should trust us, as well as the list of things we still need to work on.
Pros
We review only legal and licensed US betting sites

All claims are fact-checked

Sportsbooks organized by state availability

Betting information for almost every US state

Bonuses and T&Cs are regularly updated

We explain everything regarding the legality of online betting
Cons
Not every US betting site has been reviewed yet

We're still new to the US market
Not All Review Sites are Reliable
There seems to be an almost unlimited stream of betting reviews on the internet, but not all of them are reliable. Most of them are biased in some way, meaning their recommendations may not be the best for you.
That's why it's important to be able to recognize bias in online sportsbook reviews. Below are a few of the most common ways betting reviewers cut corners. If you notice anything like this, we advise you to check other reviews before signing up with a new sportsbook.
Conclusion
It's always worthwhile to check sportsbook reviews before signing in with a new betting site. With our help, we will ensure you always end up with a licensed betting site that offers excellent odds and a plethora of betting features.
In case you're unsure what betting site to pick, we also provide a range of sportsbook top lists based on different criteria. All our claims are fact-checked and backed by serious research, which is why you can be sure that you'll always end up with a sportsbook that best fits your needs.
FAQs
How did we come up with the USBetting rating guide?
Our goal is to have the most comprehensive and reliable sportsbook reviews on the internet. To achieve that goal, we had to develop a process that covers everything US bettors have to know before signing up with a new betting site.
How often is the rating guide updated?
The core principles are always the same, but we add new things every now and then to keep our reviews in line with the changes in the market and new betting products.
How are ratings calculated?
Each sportsbook rating has five separate subcategories that together give the final score. We consider everything from apps and bonuses to state availability.
Who rates online sportsbooks?
The team of USBetting experts writes all the reviews you can find on the site. They keep them up to date and filled with all the essential information. With over ten years of combined experience, our experts bring more than enough experience to the table.