Soccer Betting Sites in the US
Find the best soccer betting sites in the US as selected by our team of sportsbook experts using a range of strict criteria.
Everything you need to know about how to bet on soccer is on this page, including betting odds explained and different types of wagers. Also learn more about the main soccer bonuses available.
Best Soccer Betting Sites in September 2023

Top Results for
Virginia, US
#
Sportsbook
Bonus
Visit Site
T&Cs

1.

FanDuel Sportsbook

Up to $1,000 risk-free bet

Free bet

Play

Use bonus code: No bonus code required; Register to claim
Qualifying bet: No minimum bet amount
Wagering requirement: 1x bonus

2.

Caesars Sportsbook

Bet $50 Get $250 in Bonus Bets

Cashback

Play

3.

BetMGM

Up to 1000$ first bet offer

Free bet

Play

Use bonus code: No bonus code required. Register to claim offer
Qualifying bet: No minimum bet amount and no odds restrictions
Wagering requirement: 1x bonus

4.

BetRivers

Match deposit bonus

Play

Use bonus code: 250MATCH
Qualifying bet: No minimum bet amount and no odds restrictions
Wagering requirement: 1x bonus

5.

DraftKings Sportsbook

Bet $5 get $200 in free bets instantly

Free bet

Play

Use bonus code: No bonus code required; Register to claim
Qualifying bet: $5
Wagering requirement: 1x bonus

6.

Unibet

Free bet

Play

Use bonus code: No bonus code required; Register to claim
Qualifying bet: $10 or more
Wagering requirement: 1x bonus

7.

WynnBET

Bet $100 get $100 in free bets

Cashback

Play

Use bonus code: XUSBETTOP; Register to claim offer
Qualifying bet: Bet $100 or more at minimum odds of -120
Wagering requirement: 1x bonus
Our team of betting experts have analyzed and reviewed every soccer sportsbook available to recommend only the best ones.
Every soccer betting site is tested against the same strict criteria, including odds and promos, ensuring fairness when it comes to rating them.
We only ever suggest sportsbooks that are licensed to operate in the US as this means they are legally allowed to accept wagers, and must abide by federal and state laws.
Soccer Betting Bonuses
The majority of US betting sites do not restrict their welcome bonuses to a single sport, which means you are free to use any of them on soccer.
Any good legal US sportsbook also has soccer promotions to enhance the betting experience for punters, such as money back as a free bet.
Free bets and boosted odds are the most common types of soccer promotions that you should be looking out for, with many betting sites prioritizing these over other kinds of promos.
Caesars Sportsbook offer odds boosts on a variety of soccer leagues. One such promo is Erling Haaland to score first for Manchester City in an English Premier League game, enhanced to +200 from +185.
Another promo available comes at bet365, who pay out your soccer moneyline bets if the team you bet on goes ahead by two goals at any point. It doesn't matter if they go on to lose or draw the game.
Free bet stakes not included in returns
Placing a $10 cash wager on New York Red Bulls at +200 would normally net you a total of $30 – $20 winnings plus your initial $10 risk if they win.
If that $10 stake is a free bet, you only get back the $20 in winnings.
Each main type of sportsbook bonus is shown in the table below, including which betting site is the best for each one.
Top soccer betting promotions
| | |
| --- | --- |
| Best soccer betting free bets | |
| Best soccer welcome bonus | |
| Best soccer boosted odds | |
Top Soccer Apps
Any legal US sportsbook worth using will boast a mobile app for both iOS and Android, with most available to download from the App Store or Google Play. On occasion, Android users may have to download an APK file onto their phone and install it that way.
The best mobile apps for soccer betting will offer a seamless transition from the desktop site of the sportsbook, allowing you to easily place wagers on your phone or tablet.
Every sportsbook betting app tested by our team of experts is done so by strict criteria, allowing us to narrow down the multitude of options into just the best ones.
Caesars Sportsbook has one of the best mobile apps out there as it operates smoothly and from a betting perspective, the site has competitive soccer odds along with regular boosted odds.
FanDuel also have a strong mobile app that is simple to navigate so it's easy to get to soccer betting. Live betting on FanDuel is another strong aspect of the sportsbook app.
The DraftKings Sportsbook app is solid and although it is prone to occasional crashes, their soccer odds are very strong and they have a large range of markets.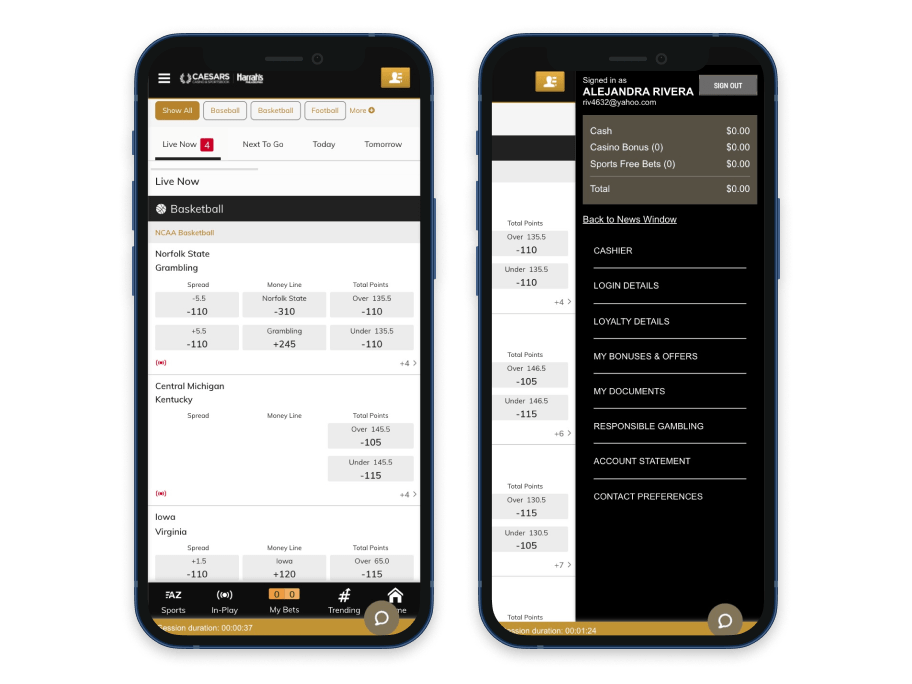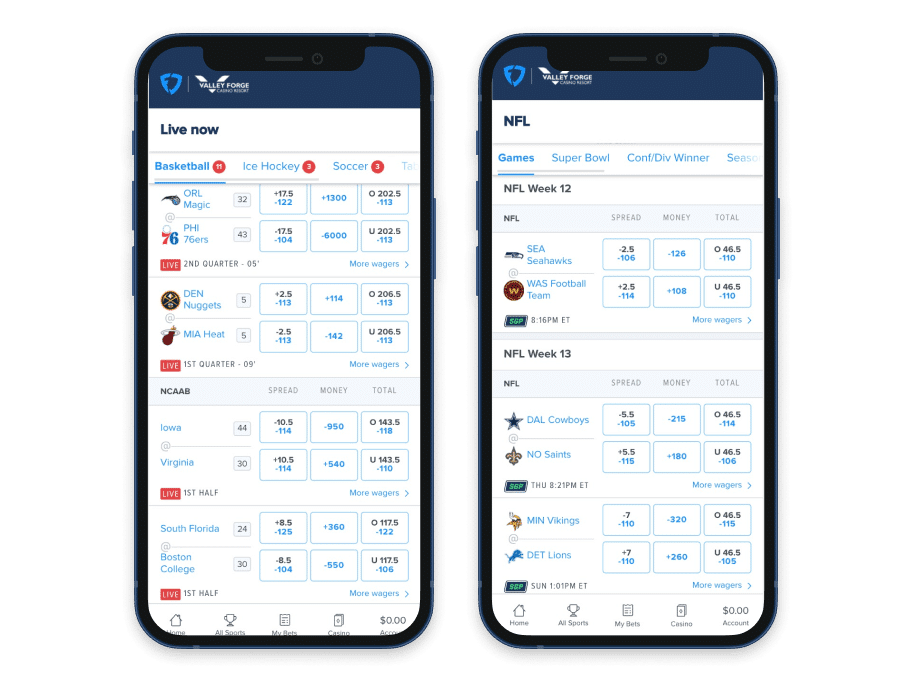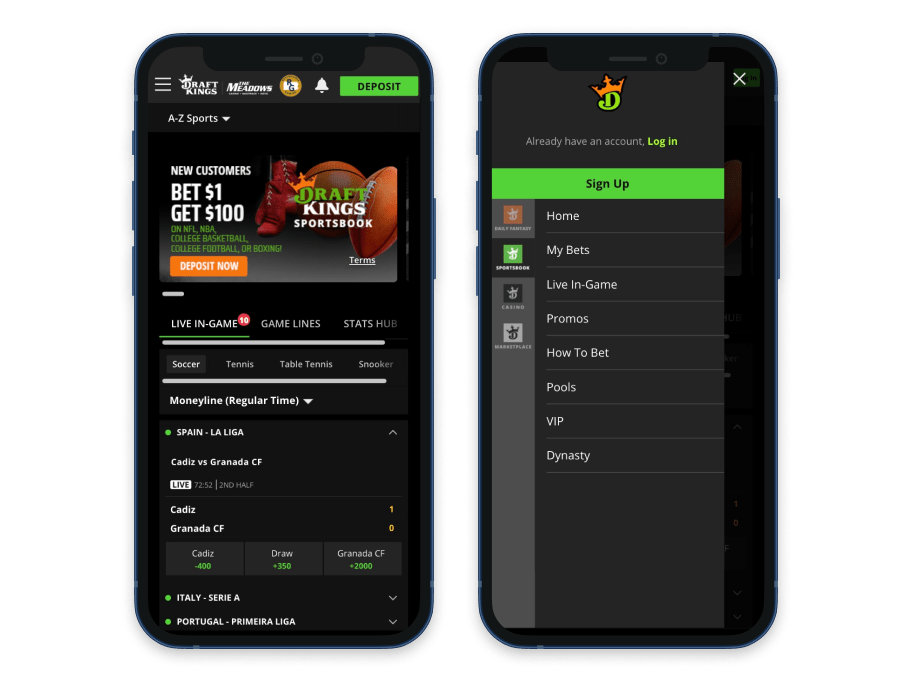 How to Bet on Soccer
As with all sports wagering, betting on soccer looks more complicated than it actually is. After you've read our guide and wrapped your head around these concepts, you'll find yourself in much better stead to place wagers.
In particular, odds is confusing for new bettors because of how they are displayed in the American odds format.
Everything you need to know is broken down into sections below and you can use the table to jump straight to the section you want to read more about.
Soccer betting explained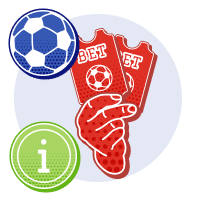 How to Place a Soccer Bet
Making a soccer wager for the first time can be overwhelming but fear not, we at USBetting are here to guide you through the process.
You have to enter some personal information when your register with a new betting site so they can comply with Know Your Customer (KYC) regulation, which verifies your identity.
Some of the information required includes name, address, zip code, and the last four digits of your Social Security Number. All these personal details are held securely by licensed US sportsbooks.
1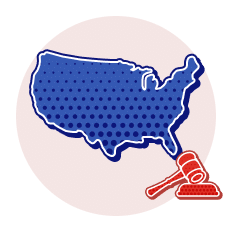 Find legal US betting site
Pick from our list of best soccer betting sites. All the sportsbooks we recommend are legal and safe.
2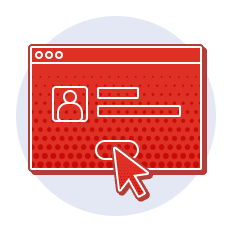 Register for a betting account
Once you have settled on a sportsbook for online soccer betting, sign up for an account and utilize the signup bonus.
3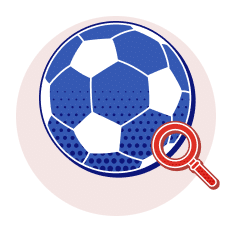 Find the game
The best soccer sportsbooks separate games into countries or continents, and then further divide them into leagues and tournaments.
4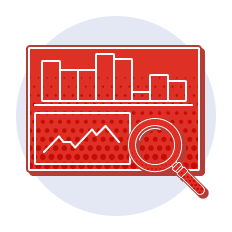 Do an analysis of the game
Check out the stats of the teams to determine how the game might play out. Comparing defensive and attacking info is usually a good start.
5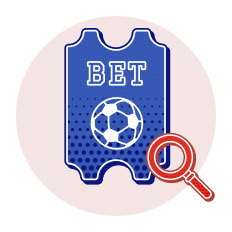 Find the market
Once you know what to bet on, find the market on your chosen soccer betting site.
6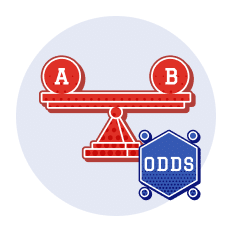 Compare odds
Check out other betting sites to ensure you're getting the best odds possible, as this will lead to greater returns on winning bets.
7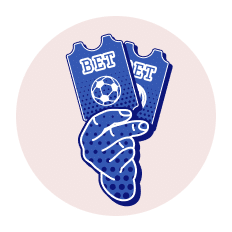 Place your bet
Once you've chosen your bet, decide how much to risk and then wait for the game to be played.
How to Read Soccer Odds
Reading and understanding soccer odds is obviously a key part of betting, but the American format does not make it easy for new bettors. The good thing is that whilst they look complicated, it's really not.
If there is a plus in front of the number then that is how much you win from a $100 wager. So if you fancy over 2.5 goals at +116 in a Premier League game between Arsenal and Wolves, you'd win $116 from a $100 wager if the bet is successful.
On the contrary, a minus sign in front of the number shows the amount you have to risk to win $100. Using the same game as above, under 2.5 goals is priced at -155 and so you would need to wager $155 to win $100.
Soccer odds explained
| | |
| --- | --- |
| -110 | Wager $110 to win $100 profit |
| -250 | Wager $250 to win $100 profit |
| +100 | Wager $100 to win $100 profit |
| +300 | Wager $100 to win $300 profit |
You don't have to bet $100 or the exact number shown, it's just how the odds are displayed in American format.
Soccer Odds Comparison
Odds vary depending on which sportsbook you choose. Even on the same market in the same game, the price could be vastly different from one betting site to the next.
The table below shows the odds from four different sportsbooks for an MLS game between New York City FC and New York Red Bulls, as well as the margin. A higher margin indicates that the sportsbook is less generous with odds.
bet365 have the best odds on an NYCFC win with a price of +125, notably higher than the +115 at FanDuel. They also boast the best price on a tie (+250) and joint-highest on a Red Bulls win.
Caesars also offer +220 on a Red Bulls victory but their margin is much larger than bet365's due to the worse odds on a home win or a tie.
| | Caesars | FanDuel | bet365 | DraftKings |
| --- | --- | --- | --- | --- |
| Home – New York City FC | +118 | +115 | +125 | +120 |
| Tie | +230 | +230 | +250 | +235 |
| Away - New York Red Bulls | +220 | +210 | +220 | +215 |
| Margin | 7.5% | 9.1% | 4.3% | 7.1% |
Bet Types
Sportsbooks offer many different types of soccer bets and at the very least, you should familiarize yourself with the most popular kinds before you start to place wagers.
All the main soccer bet types are listed in this section, so just click on the ones you want to know more about.
Soccer bet types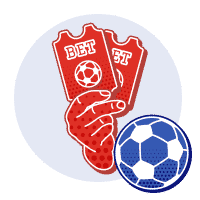 Match Result/Moneyline
Match result is most popular market for soccer betting and you are simply wagering on which team you think will win the game.
Some sportsbooks may list this as moneyline to keep it consistent with other major sports like football and basketball betting, whilst you may also see it written as 1X2. The 1 refers to the home team, the 2 to the away team, and the X is a tie.
Example
Manchester City are -295 favorites to beat Manchester United. A $20 bet on Man City would return a total of $26.77 if they win the game.
Goals (over/under)
This is betting on how many goals will be scored in a specific game. The most common line to see is 2.5 goals but this can vary depending on which teams are playing, and you might have to go as high as 4.5 to get odds-against prices.
The average number of goals in a soccer game varies by league but it tends to be slightly over 2.5, which leads many bettors to prefer to wager on overs.
Example
Backing over 2.5 goals in Burnley vs Tottenham Hotspur pays out at +105 and will be successful if three or more goals are scored in the game.
Both Teams to Score
A simple yes or no question, often shortened to BTTS. Both teams need to score in the game for 'yes' to be graded as win, otherwise 'no' will be the winning selection.
There is also a variation of this called Both Teams to Score No Draw, which means you would need both sides to score at least one goal and the game to not end in a tie.
Example
Both teams to score in Liverpool vs Leeds is priced at -115, so a $10 wager on this would return $18.69 if both team find the net.
Double Chance
Double chance is a bet that one of two selected results happens in a game. Only three results are possible in most soccer games – one team wins or it ends in a tie – so a double chance represents two of these results.
Bettors on this market usually select the underdog to either win or tie as it provides a safety net of a tie occurring if the dog is able to avoid defeat.
Example
Leeds are +1600 to beat Liverpool with the tie at +700. The double chance market of Leeds or Tie incorporates both these results and is available at +475, which will require Leeds to avoid defeat.
Handicaps
There are two types of handicaps in soccer betting, which are broadly the same thing but with some differences that you need to understand.
The first is the standard handicap, also known as European or Handicap With Tie, and is a three-way market. Sportsbooks in the US will usually offer the favorite to start with a specific handicap such as -1, and you can bet on which team will cover it or whether it will be a draw once the handicap has been applied.
The other type is called the Asian Handicap and works much like the spread in NFL and NBA. The Asian Handicap is a two-way market where you are betting on the winner after the handicap has been applied.
Example
Liverpool -2.5 to beat Leeds United is priced at +108. If Liverpool win by three or more goals, this will be a winning bet. If they win by either one or two goals, or fail to win the game, it will be a loss.
Half-based Betting
This is the same as regular wagers except it only applies to the selected half of the game. The full-time result and events that occur in the other half are irrelevant.
Sportsbooks only let you place bets on the first half of a game before it starts, and then second-half betting becomes available in-play as soon as the game begins.
Some of the markets available for half-betting include:
First half results
First half goals (over/under)
Half time correct score
Both teams to score in first half (yes/no)
First half handicap
Player to score in first half
Example
Tottenham are +140 on the first half money line to beat Burnley. If Tottenham lead at half-time then this bet will be marked as a winner, regardless of who goes on to win the game itself.
Correct Score
Correct score betting is relatively common in soccer because of the low-scoring nature of the sport compared to the 'big four' US leagues.
The shortest odds on a correct score bet is usually around +550 but comes with the obvious caveat that your wager could lose early on.
Example
Burnley to draw 1-1 with Tottenham is priced at +700. A $5 risk on this would return a total of $40 including your initial wager if the game finishes 1-1.
Parlays
Parlays are single bets that involve legs from at least two different games, allowing you to bet on action across a variety of events. All selections must be successful for your parlay to win, and any pushes will void that particular leg.
Adding more selections to a parlay increases the returns but also decreases the chance of it being successful, making them popular amongst casual bettors.
Example
Selecting Watford to win at +210, Burnley to win at +360, and Liverpool to win at -667 offers total odds of +1539. A $5 wager will return $82 if all three teams win.
Soccer Futures
Futures are bets that take more than just a single game into account and are usually season-long wagers.
It is popular in soccer to place futures – also known as outrights – before a season starts as this gives punters interest on the overall standings.
Champion – The team that wins the selected league or tournament you bet on. The best soccer betting sites in the US will offer futures on hundreds of leagues all around the world including the English Premier League, UEFA Champions League, and MLS.
Player Awards – This is usually limited to top goalscorer in a particular competition (also called Golden Boot) but some soccer betting sites may offer awards like MVP and Player of the Season where appropriate.
Top 4/6/10 Finish – League positions in certain leagues may hold prestige or qualify teams for another competition, such as the playoffs or a continental tournament. This type of betting is simply wagering on whether a specific team will finish inside the chosen range.
Promotion/relegation – Most soccer leagues around the world have promotion and/or relegation, and any good US betting site will offer markets on these for each team.
Betting without – Sometimes soccer leagues can be dominated by one particular team and this market gives you the option to exclude them from your betting. For instance, at time of writing, Liverpool are +300 to win the English Premier League but in the 'Winner Without Man City' market they are -1200.
Soccer Betting Tips and Advice
Now you know what kinds of soccer bets and markets are available, the next step is deciding what to bet on.
Before you do that, though, you should read through these handy tips that will help you find the best value bets on US sportsbooks.
Remember, there is no guaranteed way to win most or all soccer wagers you place, but this advice should help you out with selecting bets.
Soccer Live Betting
Live betting gives you the ability to place soccer wagers whilst a game is happening, creating new opportunities for markets and the chance to find value bets.
Using pre-game statistics gives you an idea of how the game should play out but this does not mean the actual match will follow suit.
Betting in-play allows you to combine pre-game statistics with ones from the game, giving you much better information for your wagers.
The main markets available for live soccer betting include:
Moneyline
Total goals (over/under)
Team to score next goal
Player to score next goal
Player to score anytime
Handicap
Final score
Every US sportsbook offers live soccer betting and our team of experts have picked out the best three for in-play wagering.
FanDuel is the best site for live soccer betting thanks to their large range of in-play markets and up-to-date stats that are in-depth. The main issue with FanDuel's live soccer betting is that they suspend markets often, which makes it difficult to put bets on.
For the best live betting odds, bet365 take the crown. As well, bet365 is one of the few US sportsbooks to live stream soccer on their site but their desktop site has a habit of crashing.
DraftKings Sportsbook also have great odds that beat most other major US sportsbooks and have lots of markets to choose from. However, the few live stats they offer for soccer are slow to update so shouldn't be relied upon.
Best soccer live betting sites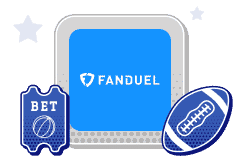 Live stats available
Lots of markets to choose from
Odds lock frequently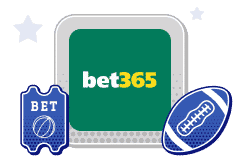 Strong live odds
Live streaming of some soccer
Website sometimes crashes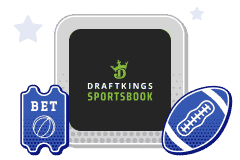 Wide variety of markets
Competitive live odds
Not many stats
How We Rate Soccer Betting Sites
There are a few factors that are very important when looking for a new sportsbook and these can prove the difference between you wanting to register and not.
All the soccer betting sites we recommend at USBetting have been put through their paces by our team of experts, using the aspects below as main criteria.
Security

All good legal betting sites in the US are licensed to operate in the US and have the best security measures in regards to money and personal information. Knowing that your deposit will be kept safe gives you peace of mind.

Odds and markets

You should always be looking for the best odds on any selection you want to bet on as this will give you more money in the long run, assuming your picks are good value. Similarly, soccer betting sites with the most markets will give you more choices for your wagering.

Promotions

It's not absolutely pivotal that a sportsbook has promotions but the best soccer betting sites will offer you at least one that you can employ. Ideally, they'll have promotions that are frequent and regular, rather than just one-offs for specific matches.

Mobile betting

Having a good soccer betting app that is available on both iOS and Android is non-negotiable. The mobile apps that our experts recommend will all run smoothly and let you place bets, both pre-game and live, without any fuss.

Customer support

The best customer support teams at sportsbooks will strike a strong balance between knowledge and reliability. You need answers to your queries in a timely manner but you also need the agents to know what they're talking about and not feed you incorrect information

Payment methods

Offering both online and in-person deposit methods makes the payment process smooth and appeals to as many punters as possible. The best soccer betting sites offer at least three of PayPal, VISA, Mastercard, VIP Preferred, and Play+ as payment options.
Soccer Betting Sites to Avoid
It is important to note that not all soccer betting sites are licensed in the US and as such, you should avoid placing wagers with them.
Chiefly, there's no real action you can take if they decide to keep your money or if they refuse to pay a bet out correctly, and they also prioritize cryptocurrency deposits (such as Bitcoin) over real money.
It's also quite common for offshore sportsbooks to purposefully grade bets incorrectly so they make more money, fully in the knowledge that US bettors have nowhere to turn in instances like these.
Not recommended soccer betting sites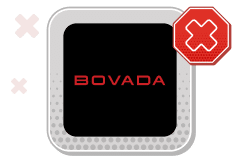 No US license
High deposit and withdrawal fees
No app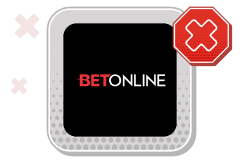 Not licensed in US
High minimum deposit
Withdrawal fees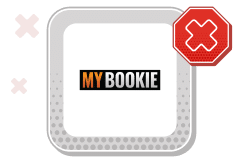 No US license
High fees on deposits and withdrawals
Withdrawals take over a week
Most Popular Soccer Leagues
Soccer is the most popular sport in the world and is one of the most viewed in the US, with the likes of the English Premier League, Liga MX, and MLS dominating TV ratings.
On top of that, US betting sites also cover all major international events. For example, you can bet on the soccer World Cup at almost every sportsbook around here.
English Premier League
The English Premier League is the biggest soccer league with over three billion worldwide viewers per season and boasting some of the best players on the planet.
It was formed in 1992 as a rebrand of the First Division, the top tier of English soccer, taking advantage of growing money available from selling the rights to broadcasters all over the world.
Manchester United are the most successful Premier League team since, winning it an incredible 13 times under the stewardship of legendary manager Sir Alex Ferguson.
With every single English Premier League game broadcast on TV in the US, the opportunity for soccer betting is greater than ever.
Each Premier League team plays a total of 38 games – 19 at home and 19 on the road. Matches are played most weekends between August and May but there are also occasional midweek fixtures.
English Premier League info

| | |
| --- | --- |
| Year established | 1992 |
| Number of teams | 20 |
| Number of games played per team | 38 |

| | |
| --- | --- |
| Start of regular season | August |
| End of regular season | May |
| Team with most titles | Manchester United (13) |
UEFA Champions League
The UEFA Champions League is the most coveted prize in European football. Teams from all over the continent qualify via strong performances in their domestic league, with some countries limited to one team and others allowed as many as four.
It's been running in one form or another since 1955 when it began life as the European Cup, with it officially being rebranded as the Champions League in 1992.
A total of 32 teams qualify for the group stage, with the top two from each of the eight groups then reaching the knockout stages.
The Champions League knockouts are two-legged affairs with the final played at a pre-selected stadium at the end of the season.
| | |
| --- | --- |
| Year established | 1955 |
| Number of teams | 32 |
| Number of games played per team | Up to 13 |

| | |
| --- | --- |
| Start of tournament | September |
| End of tournament | June |
| Team with most titles | Real Madrid (14) |
Liga MX
Liga MX is Mexico's top league and it is the most-watched soccer league in the US, even ahead of MLS and the English Premier League.
The top four teams at the end of the season qualify for the Liguilla quarter-finals, a playoff tournament that determines the winner of the First Division.
Liga MX has an extremely competitive history, with 24 different teams having been crowned champion over the years. Club America have won 13 titles, Guadalajara 12, Toluca 10, and Cruz Azul just behind on nine.
Liga MX info

| | |
| --- | --- |
| Year established | 1943 |
| Number of teams | 18 |
| Number of games played per team | 34 |

| | |
| --- | --- |
| Start of regular season | July |
| End of regular season | May |
| Team with most titles | América (13) |
MLS
MLS, shortened from Major League Soccer, was founded in 1996 and is an infant compared to other soccer tournaments around the world.
Unlike many other soccer leagues but like most US sports leagues, MLS does not employ a promotion and relegation system so there is no penalty for finishing bottom.
Having begun life with only 10 teams, there are now 28 franchises spread across the US and Canada that provides betting interest to millions of Americans.
MLS sides play 34 games in a season and the top 14 teams qualify for the MLS playoffs, which is a straight knockout tournament with a final at the end.
MLS info

| | |
| --- | --- |
| Year established | 1996 |
| Number of teams | 28 |
| Number of games played per team | 34 |

| | |
| --- | --- |
| Start of regular season | February |
| End of regular season | October |
| Team with most titles | LA Galaxy (5) |
Conclusion
Soccer is the most popular sport in the world and many Americans follow the sport in both the US as well as in Europe.
The sheer number of high-quality leagues played every day around the globe means there's always lots of soccer to bet on. The best sportsbooks offer hundreds of markets on the big games, but even less popular leagues still have plenty of lines.
Bonuses are extremely common amongst betting sites, with some offering upwards of $100 as well as regular odds boosts on MLS, EPL, and UEFA Champions League.
FAQs
What is the best way to bet on soccer?
There are many markets available for soccer betting including match result, over/under goals, handicap betting and correct score. There is no one way that is intrinsically better than another to wager on soccer, but rather it is about how you determine value bets.
Can I bet on soccer legally?
You can legally bet on soccer in 25 states and Washington DC, with a range of licensed sportsbooks available in all of those. You can find a list of the best soccer betting sites in your state at the top of this page.
What is the best betting site for soccer?
The best soccer betting sites are available to view at the top of this page, with BetMGM, PointsBet, and DraftKings Sportsbook amongst the most popular. Each sportsbook has been rated on a range of criteria including best odds, best promotions, and most secure.
How to bet on soccer?
Sign up to a legal betting site in your state and deposit using a payment method that the sportsbook offers. Find the soccer game you want to wager on, pick your market, enter your risk amount into the box, and click "place bet".
How to bet soccer spreads?
The spread, usually known as handicap in soccer, is betting on a favorite to win by a certain amount or the underdog to lose by less than that. There are two types of handicap available, the European and the Asian, with the latter being a two-way market like an NFL spread.