Daily Fantasy Sports Sites in the US
Check out our list of the best daily fantasy sports sites available in the US. Find out how to play daily fantasy sports and how it works at legal fantasy sports providers.
Our team of experts have thoroughly evaluated each daily fantasy sports site to make sure you have the best experience possible without having to find the information yourself.
Best Fantasy Sports Sites in July 2022
We test all licensed daily fantasy sites available in the US based on a range of strict factors, and only recommend the best ones to you.
#
Sportsbook
Bonus
Visit Site
T&Cs

1.

DraftKings

20% deposit match up to $500

Play

2.

FanDuel

Instant free entry to a DFS contest

Play
Best Fantasy Sports Sites by Category
Not all daily fantasy sites are made the same and it makes sense to pick one that suits your needs the best. Some have more contests whilst others may offer better prizes that enable you to potentially win more money.
Here you can find the best sites for each of the major US sports, allowing you to opt for the one that is legal and excels at your preferred sport.
Best fantasy sports sites by category
| | |
| --- | --- |
| Best NFL fantasy site | |
| Best NBA fantasy site | |
| Best MLB fantasy site | |
| Best NHL fantasy site | |
| Best daily fantasy app | |
| Best fantasy sports bonuses | |
Not Recommended Fantasy Sports Websites
There are some daily fantasy sites you should stay away from as they are unlicensed in the US, which means they do not have to abide by the same regulation as licensed sites.
As a result, using these shady daily fantasy sports websites gives you no recourse if they decide to keep your money or refuse to pay you out.
How to Pick a Daily Fantasy Sports Website
There are a few key aspects that define a good daily fantasy site and that is the criteria we use to rank them.
It is important that sites excel in these factors as that leads to a good daily fantasy experience for users and makes the website worthy of our recommendation.
License

It is vital that a daily fantasy site is licensed to operate in the states they are available in as that makes them legal. Having a valid license means they are regulated and gives you peace of mind that the contests are played fairly.

Mobile app

Being able to set lineups and enter contests on your phone gives you more freedom as a daily fantasy sports player. A good mobile app should give you all the functionality of the desktop website, including the ability to check how you are faring in live contests.

Selection of sports

Having a range of sports gives you more choice for how you want to play daily fantasy. This is especially true if you are looking for contests in sports outside of the 'big four' and soccer.

Promotions

Getting extra rewards for playing daily fantasy sports is a fantastic additional bonus. The best promotions are ones that are attainable for your preferred sport and entry amount.

Fantasy game types available

There are many different types of fantasy contest you can play and ideally you should use a site that offers a wide selection.

Payment methods

Being able to deposit in the way you want gives you more freedom and sites with the most options are more likely to be able to accommodate your chosen method.
Using these criteria can help you to decide which daily fantasy site you should sign up to and which ones you should not.
Fantasy Sports Explained
Now you know what to look out for at daily fantasy sports sites and which ones are recommended to sign up with, the next step is learning how to play.
All the information you need about fantasy sports is below, including what types of contests are available and how to score points in daily fantasy sports (DFS).
How to Play Daily Fantasy Sports
The great thing about daily fantasy sports is that it's essentially the same regardless of which site you choose.
Once you've mastered the basics of how to play daily fantasy, you can use those ideas to hone your strategy as you play more DFS.
1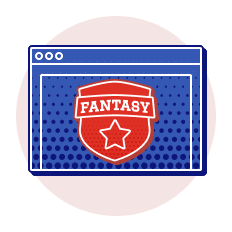 Pick a fantasy sports site
Use our list of recommended daily fantasy sports websites to choose the one that suits your needs the best.
2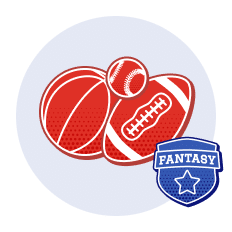 Decide on a sport
If your chosen operator doesn't have the one you want, you'll need to select another site.
3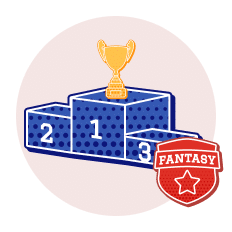 Choose your contest
Some contests can be as cheap as $0.05 per team whilst others will run you upwards of $10,000, so pick one that works for your budget.
4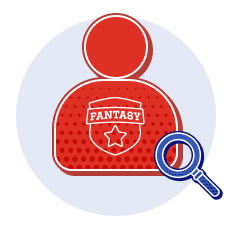 Research the players
Check the stats of players to determine who will be best for your team.
5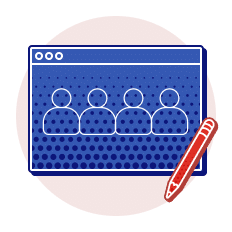 Draft your lineup
A lineup generally has a salary cap of $50,000 and the key is to find a balance between top players and cheaper players who will overperform.
6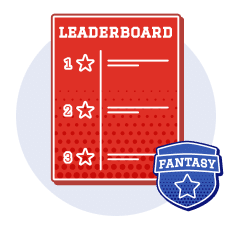 Follow the leaderboard
The leaderboard will be constantly updating as the game goes on, showing your position and how much you are winning.
Types of Fantasy Games
The most overwhelming part of DFS is choosing which type of contest is best for you because there are so many different ones.
Each kind is listed below and they are generally suited to different levels of player, so if you are totally new to daily fantasy then there are contests specifically for novices.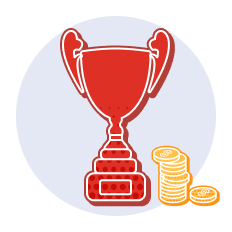 Guaranteed prize pool
Shortened to GPP, these are the most popular types of contests because the money is guaranteed. Each GPP has a maximum entry limit but even if that is not met, then players are still paid out in full.
For example, a GPP offers $3,250,000 in total prizes with 192,000 entry slots, where the winner earns $1m. The winner is guaranteed to get that money regardless of whether 10 slots or all 192,000 slots are taken.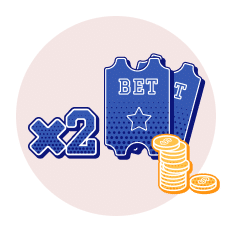 Double up
This is called a "cash" game where you can only win double your initial entry fee. You win if you place in around the top 45% of the contest but each winning player's payout is exactly the same.
A double up that costs $20 to enter and consists of 222 players would see the 100 top-scoring players all receive $40 – whether they finish first or 100th.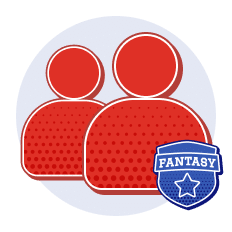 Head-to-head
These are games for two people where you simply have to score more than your opponent. It is winner-takes-all, minus the operator fee of around 10%, so all you need to do is draft a team that's better than your opponents'.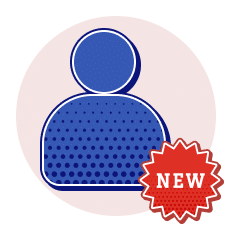 Beginners only
As the name suggests, only inexperienced players can enter these contests. You are defined as a beginner when you have played fewer than a certain number of contests (usually 50) and have not had a "big win". What constitutes a big win differs by operator but will be explained in their FAQs.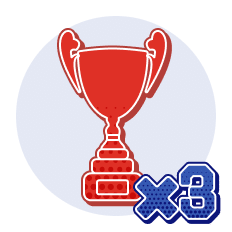 Multiplier
A multiplier contest is similar to a double up in the sense that winnings players all receive the same amount, although here it can be as much as 40x the entry fee. These are much harder to win, though, as there can be thousands of entrants whilst only a tiny percentage of players win.
As an example, a $4 Multiplier with 5,945 players will see the top 200 players all receive $1,000. It is a small entry fee for a big win, but you have to beat over 96% of players to place.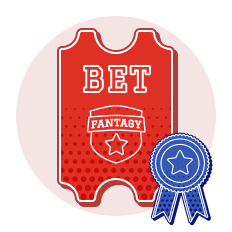 Qualifier
Instead of winning money, the prize in qualifier games are tickets for future tournaments. The value of the ticket will be higher than the entry fee for the qualifying contest.
Each of these contest types has a maximum entry limit, which is the number of teams you can enter by paying the entry fee for each one. Some tournaments are single-entry, which means each player can only enter one team, whilst others allow people to enter as many as 150 teams into a contest.
Obviously, it will cost you more money to enter more teams but this does allow you to play teams with different players in and gives you more chance of winning a contest.
New players should gravitate towards playing Beginner Only contests to get a grip on strategy and tactics before playing the bigger games.
Fantasy Draft Explained
There are a few different types of fantasy draft available in the world of DFS. They all involve picking players for your team but there are some key distinctions that can impact strategy.
The tournaments with the biggest prizes tend to use Classic and Showdown drafts, and these are also the most popular amongst DFS players.
Scoring in Daily Fantasy Sports
Most daily fantasy sites use similar scoring for each sport, so it is fairly easy to jump from one site to another and know what constitutes a good score.
However, scoring does differ greatly per sport and so a total that could be a good score in an NFL contest may not be a good score for an NBA contest.
The tables below show how DraftKings and FanDuel score NFL contests, and for other sports you should always check on the site to see what actions will score you points.
Offensive players
| Statistic | DraftKings points | FanDuel points |
| --- | --- | --- |
| Touchdown pass | +4 | +4 |
| Passing yard | +0.04 per yard | +0.04 per yard |
| Intercepted pass | -1 | -1 |
| Rushing touchdown | +6 | +6 |
| Rushing yard | +0.1 per yard | +0.1 per yard |
| Receiving touchdown | +6 | +6 |
| Receiving yard | +0.1 per yard | +0.1 per yard |
| Reception | +1 per catch | +0.5 per catch |
| Touchdown return | +6 | +6 |
| 2-point conversion | +2 | +2 |
| Fumble lost | -1 | -2 |
Defense/Special Teams
| Statistic | DraftKings points | FanDuel points |
| --- | --- | --- |
| Sack | +1 | +1 |
| Interception | +2 | +2 |
| Pick-six | +6 | +6 |
| Fumble recovery | +2 | +2 |
| Fumble recovery for TD | +6 | +6 |
| Touchdown return | +6 | +6 |
| Blocked punt or FG for touchdown | +6 | +6 |
| Blocked kick | +2 | +2 |
| Safety | +2 | +2 |
| PAT return | +2 | +2 |
| 0 points allowed | +10 | +10 |
| 1-6 points allowed | +7 | +7 |
| 7-13 points allowed | +4 | +4 |
| 14-20 points allowed | +1 | +1 |
| 21-27 points allowed | 0 | 0 |
| 28-34 points allowed | -1 | -1 |
| 35+ points allowed | -4 | -4 |
Touchdowns that are scored whilst the defense is not on the field do not count towards their 'points allowed' total.
As an example, if the New Orleans Saints beat the Tampa Bay Buccaneers 27-20 but 12 of the Saints' points were directly scored by their defense (two touchdowns), then the Buccaneers' defense will only be deemed to have allowed 15 points rather than 27.
Kickers
| Statistic | DraftKings points | FanDuel points |
| --- | --- | --- |
| Extra point made | +1 | +1 |
| 0-39 yard field goal made | +3 | +3 |
| 40-49 yard field goal made | +4 | +4 |
| 50+ yard field goal made | +5 | +5 |
Advantages and Disadvantages of Fantasy Sports
As with everything, playing daily fantasy sports has its pros and cons which are worth considering before you decide to start playing.
Pros of DFS
No season-long commitment like in regular fantasy

Range of contest and draft types

Can enter for a few cents

Legal in almost every US state

Makes games more interesting

It's fun
Cons of DFS
Often playing against professionals

Fields can contain hundreds of thousands of opponents

One bad pick can ruin a team
Most people are drawn to DFS because they can draft different players every week and aren't stuck in a season-long league that they have to pay meticulous attention to.
What Fantasy Sports Are Available?
As there are only a few daily fantasy sports operators in the US, the range of sports is incredibly limited compared to sports betting.
All companies offer the 'big four' sports but aside from that, options are restricted to golf, NASCAR, soccer, and esports for DFS. Betting sites usually offer many more sports.
What fantasy sports are available
Fantasy Football
Fantasy football is the pioneer of this industry, with its roots being traced back to 1962 – five years before the first Super Bowl was even played.
As such, the appetite for fantasy football really launched DFS sites into the mainstream as players embraced the fact that they could draft a new team every Sunday.
DFS sites usually offer both NFL and college football, with particular emphasis on NFL over any other league in any other sport due to the sheer volume of players who get involved every Sunday between September and February.
DraftKings are the best DFS operator for NFL because of their famous Milly Maker, a $20 NFL contest which rewards the winner with $1m.
Fantasy Basketball
Both NBA and NCAA basketball are available on DFS sites although there is much greater focus on NBA.
The volume of games played means that daily GPPs have lower prizes compared to NFL, with the exception of popular slates like on Christmas Day, and there are usually plenty of promotions to get stuck into.
DraftKings offer rewards for both NBA and college basketball. Completing these challenges rewards you with crowns, which is DraftKings' bonus currency and can be used instead of money to enter contests.
Fantasy Hockey
Those looking to enter hockey contests are tied to NHL as operators only offer that league. Other major hockey leagues like KHL and SHL are not available for daily fantasy.
Much like sports betting in the US, hockey generally takes a backseat in the world of DFS with lower prize pots compared to other major sports.
Fantasy Baseball
Baseball and statistics have always gone hand-in-hand so it's no surprise that fantasy MLB continues to be extremely popular amongst fans of the sport.
The great thing about MLB is the fact that each team plays 162 regular season games, which gives you plenty of DFS options almost every single day from April through to November.
Sportsbook
Bonus
Visit Site
T&Cs
FanDuel

Instant free entry to a DFS contest

Play
Baseball is probably the most difficult sport of all for daily fantasy because of the sheer amount of variance, with the best players unlikely to justify their hefty price tags most days.
Fantasy Golf
DFS sites offer both PGA Tour and some DP World Tour events, and the difference with golf compared to other sports is that tournaments stretch across multiple days.
Most fantasy golf players prefer to enter teams for the entire event, which usually lasts from Thursday to Sunday, but there are also options for just each day.
The key thing to note with DFS golf is that players cannot be replaced after a tournament starts, even if they have not teed off yet.
Fantasy NASCAR
Fantasy NASCAR is available on the big DFS sites and tournaments are for the main race only, rather than both the race and qualifying.
The high volume of crashes, with each race averaging around six incidents, increases the variance as an expensive driver crashing out can completely ruin your lineup.
Fantasy Sports Apps
The best fantasy sports apps are the ones that make it easy for you to play in contests and follow your entries as the event is going on.
Our team of experts have tested all the apps available – on both iOS and Android – to determine which one is best for each category. All you need to do is decide which category is most important to you.
Fantasy sports apps
| | |
| --- | --- |
| Best NFL fantasy app | |
| Best NBA fantasy app | |
| Best MLB fantasy app | |
| Best NHL fantasy app | |
| Best daily fantasy app for iOS | |
| Best daily fantasy app for Android | |
It is not enough for an app to just offer a good user experience in terms of daily fantasy, but they also have to be technically sound.
Apps that you can only use in particular states, such as for fantasy sports, betting, or both, are generally prone to location errors, so it is important that these apps do not require constant confirmation of your location.
Fantasy Sports Bonuses
The bonuses available on fantasy sports sites are much scarcer than on betting sites, largely due to the difference in age between the two.
Whilst there is a mad scramble for new customers in the world of legal sports betting in the US, the DFS industry is more mature and so bonuses tend to be more modest.
There are a few different types of bonus that are available and are worth familiarizing yourself with before you begin to play fantasy sports.
Welcome bonus
This is the bonus you receive for registering with a daily fantasy site, and it is usually dependant on how much you deposit. The bonus will come as funds that can only be used at that site and cannot be withdrawn.
Deposit bonus
Some sites will reward you with a bonus when you make a deposit, giving you extra funds to use. These are quite rare and are usually only received if you've not made a deposit in a while.
Tickets
Instead of bonus funds that can be used on any event, tickets are restricted to one specific contest. They are usually received by opting in on the site's promotion page and entering a specified contest, which then earns you the free ticket for another contest.
Payment Methods at Daily Fantasy Sports Sites
It is important that a site has a range of deposit methods as it allows you to fund your account in the way you want. Our highly-recommended sites all give you plenty of options, and that is one of the main reasons they are rated as strongly as they are.
The variety of payment methods on DFS sites is not nearly as large as on sports betting sites but they all use popular methods such as PayPal and major debit cards.
Fantasy Sports Tips and Strategies
As with sports betting, you should treat daily fantasy as entertainment and not as a way to make extra money or as a side income.
That said, there is some general advice that can help you on your DFS journey and give you a better chance of winning.
Conclusion
Daily fantasy sports is a great alternative to sports betting for those who either can't legally bet or are fans of fantasy sports. Being able to pick and choose which days you want to play fantasy on holds plenty of appeal for people who don't want to, or can't, commit to an entire season.
Being successful at DFS is very difficult but at the very least it can make games more entertaining as you can enter a contest that costs as little as $0.25 and win as much as $1,000.
FAQs
What is fantasy sports?
Fantasy sport is where people select real players for their imaginary team and earn points based on how they perform in real games. Their statistics are converted in points with each fantasy manager aiming for their roster to score the most points each week.
Are daily fantasy sports legal?
Daily fantasy sports is legal in almost every state as it is considered a game of skill more than chance, unlike sports gambling which is still argued to be a game of mostly luck. DFS is legal in every state except Hawaii, Idaho, Louisiana, Montana, Nevada, and Washington.
What's the best daily fantasy sports site?
DraftKings and FanDuel are the best daily fantasy sports sites. You can find our list of recommended DFS sites here where our team of experts have rated each operator on a variety of factors.
What's the best app for fantasy sports?
There is no one best fantasy sports app as each one excels at different things. Our top-rated fantasy sports apps are broken down into categories for a range of aspects that make your DFS experience as strong as it can be.
How does fantasy sports work?
Fantasy managers select real players for their team based on how they think they will perform in real games. Their actions in the game, both good and bad, are converted into points for the manager's virtual team with the aim of scoring as many points as possible.