FanDuel Sportsbook Welcome Bonus
FanDuel Sportsbook's welcome bonus is a risk-free first bet which is available in all states where the betting site operates.
The bonus is easy to obtain, only requiring one bet, and bettors do not need a promo code to get the FanDuel Sportsbook free bet when registering.
FanDuel Sportsbook welcome bonus

| | |
| --- | --- |
| Max bonus | $1,000 |
| Bonus percentage | 100% |
| Wagering requirements | None |
| Time to complete the wagering requirements | N/A |

| | |
| --- | --- |
| Expiry date | 14 days |
| Minimum odds | None |
| Bonus code | Not required |
| Sports restrictions | None |
Offering a risk-free initial bet of $1,000 if your first real money bet loses is quite generous by FanDuel Sportsbook, putting them alongside other major sites.
One of the great things about this bonus is that it comes in the form of FanDuel Sportsbook bonus funds, rather than as a single free bet. That means that you can wager however much or little of the bonus you like, rather than being hamstrung to specific amounts.
You have 14 days to wager the entire FanDuel Sportsbook free bet, and any bonus funds left after that time will be forfeited.
FanDuel Sportsbook Bonus T&Cs
No wagering requirements
FanDuel Sportsbook's welcome bonus has no wagering requirements. Any money you win from the bonus funds is yours to keep, although the wager will not be included in any returns.
No minimum odds
There are no minimum odds on which you have to wager your bonus amount, so you are free to place bonus funds on any market you like.
Only first bet matched
FanDuel will only match your first real money bet made on the sportsbook and only if that bet loses. If that first bet is a winner, you will not be eligible for bonus funds.
How to Claim FanDuel Sportsbook Sign-up Bonus
Claiming the FanDuel Sportsbook bonus is pretty much a painless affair. There is no FanDuel Sportsbook code required and you can be in any one of the 11 states where the site is licensed.
1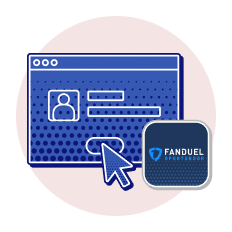 2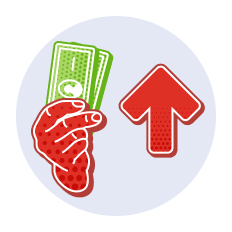 3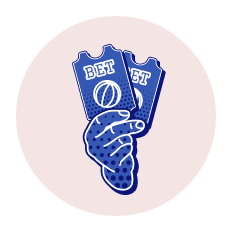 Bet
Place your first bet and wait for it to settle.
4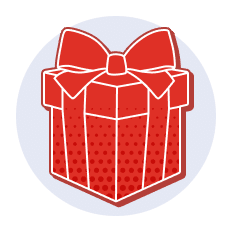 Receive bonus
Get a free bet if your first wager loses.
To create a new FanDuel Sportsbook account, you will need to provide:
Email
Username
Password
First Name
Last Name
Date of Birth
Phone Number
Address including city, state and zip code
Last four digits of your Social Security number
FanDuel Sportsbook Sports Betting
FanDuel Sportsbook give bettors a fantastic choice of sports betting options, with markets available on a variety of sports and leagues.
The homepage is quite strong with a list of popular sports at the top-left, with the full list below that. Games that are coming up are displayed in the middle of the page with handy navigational tool to jump to your desired sport.
It is not without fault, though, with the bet slip taking up too much space and unable to be minimized. The site is also squashed into the middle of the page, leaving wide margins at both sides.
FanDuel Sportsbook also boast an excellent referral program. This promotion allows bettors to claim $50 sportsbook bonus funds per person signed up, with both the referrer and referee receiving the bonus.
You can do this up to a maximum of 10 times and credit will be added to your account when the person you refer bets $10 on the sportsbook.
Although only available in West Virginia, New Jersey, Pennsylvania, or Michigan, this is still a promotion that few other betting sites offer and the potential for $50 of sportsbook credit just for signing someone else up is a superb offer.
Sports Available to Bet On
FanDuel Sportsbook have a good number of sports available to bet on, mainly catering to fans of popular leagues. NFL, NBA, MLB and NHL bettors are the clear target audience of this betting site, with other events taking a bit of a backseat.
There is also a decent selection of other sports, with a wide variety of soccer leagues as well as the likes of golf and tennis. This is not as many as sites like BetMGM but it still puts FanDuel Sportsbook near the top in this metric.
Other Sports
FanDuel Sportsbook do provide bettors with plenty of sports, offering 18 in total including the big four leagues.
There are also plenty of markets and futures in even the most niche of sports, such as handball and darts.
Australian Rules
Baseball
Basketball
Boxing
Cricket
Cycling
Darts
Football
Golf
Horse Racing
Ice Hockey
MMA
Motorsport
Rugby League
Rugby Union
Soccer
Table Tennis
Tennis
Odds Comparison
FanDuel Sportsbook's odds are amongst the best in the industry. They consistently have very competitive prices on major sporting events and even when odds move, that is still the case.
The payoff for FanDuel having the best odds on one side of the spread is that the other side is usually slightly worse than other sportsbooks.
For instance, in an NFL game between the Houston Texans and Cleveland Browns, the Texans were +13.5 underdogs at -105, which is the best price available at time of writing. On the other side, the Browns were -13.5 but their odds of -113 was worse than every other major betting site.
FanDuel
DraftKings
BetMGM
PointsBet
Home – Cleveland Browns
-720
-760
-700
-690
Away – Houston Texans
+520
+525
+525
+490
Home handicap
-13.5
-113
-13.5
-115
-13
-110
-13.5
-110
Away handicap
+13.5
-105
+13.5
-105
+13
-110
+13.5
-110
FanDuel Blog and Betting Picks
FanDuel Sportsbook have a blog called The Duel. It is not easy to find, located at the bottom of the homepage and not publicized as a blog.
The blog itself has plenty of content although it does not set the world alight for bettors, mainly focusing on daily fantasy content rather than betting.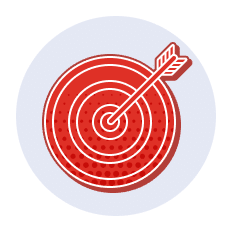 Relevancy
The Duel is not massively relevant for sports bettors. Most posts are about fantasy sports and there is very little effort put in to betting content.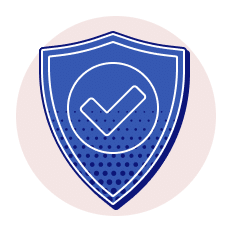 Reliability
The Duel is not very reliable as they generally don't supply their own picks. Instead, most articles consist of rounding-up tips from other media outlets.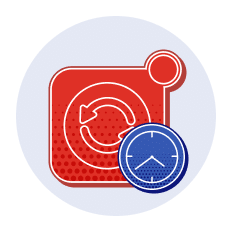 Update frequency
FanDuel update their blog regularly, usually providing posts for every single game in the big four on each day.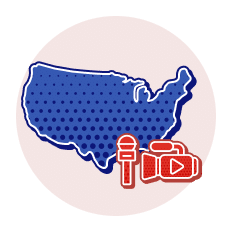 US sports coverage
Almost every post on The Duel is about US sports, giving them some of the most comprehensive coverage of all sportsbooks.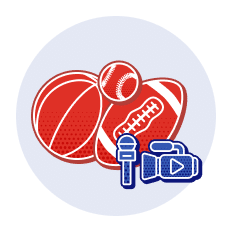 Other sports coverage
There is some Premier League soccer content on FanDuel Sportsbook's blog, but that is it for non-US sports.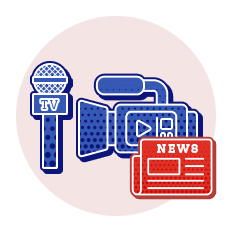 Media format
Most content on The Duel is text but each article has an embedded video of their weekly betting show, The Morning After. There is also The Pat McAfee Show available via the video tab on the top menu.
FanDuel Sportsbook's blog is almost pointless for bettors. There are plenty of updates but these are mostly short and not very helpful, usually just telling the reader which team or player other outlets think will win.
There is a wealth of decent fantasy sports content which can be used to help with placing wagers, but most bettors will not find much of value on The Duel.
Bet Slip
FanDuel Sportsbook's bet slip is intuitive and very easy to use. Whilst it does not have separate tabs for parlays and round robins, with these options being displayed at the bottom of the slip when enough selections are added.
One of the best things about FanDuel's slip is that it tells you which bets are available for early cashout, which is something that other betting sites don't do.
Betting Markets
FanDuel Sportsbook have one of the best ranges of betting markets available in the industry, giving you plenty of choice to suit all your wagering wishes.
As well as the usual betting options of moneyline, spread, and total, FanDuel offer plenty of player props and half betting. Each section is split into tabs at the top of a game, making it easy to find whatever market you want to bet on.
Moneyline
Spread
Total
Player Props
Team Props
Game Props
Half Betting
Quarter Betting
Buy/Sell Points
Anytime Scorers
NFL
NFL Betting at FanDuel Sportsbook is an excellent experience. Punters are likely to get best prices on certain spreads every week and the number of markets can't be matched by any other betting site.
FanDuel have a strong range of Futures options, too, providing weekly specials on top of the usual markets available at most betting sites like Season Awards and Super Bowl Winner.
NFL
| | |
| --- | --- |
| Margins | 4.8% |
| NFL betting markets | 147 |
| Odds | Competitive |
| Min/max bet | $0.09/variable |
| Promotions | Risk-free same game parlay |
The only room for improvement is adding more player props and in plenty of time. This FanDuel Sportsbook review was carried out on a Friday and Sunday NFL games only had basic props in passing, receiving and rushing yards. Other betting sites boasted props like number of receptions, tackles made and longest rush.
Football Promotions at FanDuel
FanDuel Sportsbook offer just one NFL promotion, which is fewer than other major betting sites, but it is an appealing one to casual punters. They also have two free-to-play games which give you the chance to win up to $1,000,000.
Risk-Free Same Game Parlay – Place a 3+ Leg Same Game Parlay wager with cash and if your bet loses, you will get a refund in site credit. Max refund $10, parlay must be odds of +400 or greater to qualify.
This promotion is good for casual bettors who only wager a few dollars at a time, given the maximum refund is only $10. Those looking to bet more money on Same Game Parlays should go to BetMGM, who have an identical offer but offer up to a $25 refund.
NBA
NBA betting was not fully available at FanDuel Sportsbook at time of writing due to the season still being some weeks away.
The select markets they do offer – moneyline, spread and parlay – is fewer than some other betting sites but based on NFL, it is likely that FanDuel will have a strong range as the season approaches.
NBA
| | |
| --- | --- |
| Margins | 4.8% |
| NBA betting markets | 75 |
| Odds | Competitive |
| Min/max bet | $0.09/variable |
| Promotions | TNT Tuesdays |
Even with the season still some weeks away, offering fewer markets than their competitors is not a good sign and if you are looking to place early bets on regular season games, DraftKings Sportsbook is a better option.
Basketball Promotions at FanDuel
FanDuel Sportsbook currently have one NBA promotion, which is only available for games that are nationally televised on TNT on Tuesdays.
Place a 3+ Leg Same Game Parlay wager of at least $10 on any "NBA on TNT" game taking place on a Tuesday and get a $10 bonus in site credit, regardless of if your bet wins or loses
NHL
There is no NHL game betting at time of this FanDuel Sportsbook review, which is exceptionally poor. Despite it being the off-season, many other betting sites have lines available on the first few games.
NHL
| | |
| --- | --- |
| Margins | 4.8% |
| NHL betting markets | 21 |
| Odds | Competitive |
| Min/max bet | $0.09/variable |
| Promotions | None |
Only offering Futures when sites like BetMGM and DraftKings have a full range of markets available does not reflect well on FanDuel Sportsbook.
Ice Hockey Promotions at FanDuel
Fanduel Sportsbook do not offer any hockey promotions at this time although this could change during the season.
MLB
FanDuel Sportsbook have a strong MLB betting section with very competitive odds and a lengthy range of markets.
Their prices are always near the best in the business and sometimes they lead the industry, which makes them a first port-of-call for baseball betting in the US.
MLB
| | |
| --- | --- |
| Margins | 4.8% |
| MLB betting markets | 92 |
| Odds | Strong |
| Min/max bet | $0.09/variable |
| Promotions | None |
MLB betting is FanDuel Sportsbook's strongest offering of all the sports they have. Games are added to the site in a timely manner with full markets including player props, and their odds are rarely beaten by more than a few cents.
Baseball Promotions at FanDuel
There are no baseball promotions available at FanDuel Sportsbook, which is a shame considering how strong their MLB betting is.
Not having any MLB promotions sets them back from the likes of BetMGM but FanDuel's slightly better odds means this is not a total loss.
NCAA
Every college football and basketball game is offered for betting at FanDuel Sportsbook, as you would expect given that other betting sites do the same.
State restrictions do limit the markets offered on some games, with player props particularly limited on that front, but that does not stop FanDuel having those markets where possible.
As well, college betting odds at FanDuel Sportsbook are very competitive and often they have the best price available.
NCAA
| | |
| --- | --- |
| Margins | 4.8% |
| NCAA betting markets | 26 |
| Odds | Competitive |
| Min/max bet | $0.09/variable |
| Promotions | None |
NCAA Betting Promotions at FanDuel
FanDuel Sportsbook do not offer any college sports promotions. With other betting sites like BetMGM having one, it would be beneficial for FanDuel to have at least one.
FanDuel Sportsbook Betting Features
FanDuel Sportsbook are quite good when it comes to extra features offered, providing bettors with three. That said, two of those are also available at almost every other legal betting site in the US.
Early cashout

Early cashout at FanDuel lets bettors settle their wager early in exchange for a determined amount of money. FanDuel Sportsbook show which bets are available for early cashout with a symbol when you add them to your betslip.

Live streaming

FanDuel Sportsbook have live streaming on some sports, most notably tennis and table tennis. Games which can be watched are available in the Watch Live tab in the Live Now section of the website, although if nothing is streaming then this tab will not show.

Bet builder/Same game parlay

Same Game Parlay at FanDuel Sportsbook allows bettors to put multiple selections from one fixture into a single bet. This feature is available on all NFL, NHL, NBA and MLB games.

Easy parlay

FanDuel Sportsbook do not offer an Easy Parlay option.

Edit bet

FanDuel Sportsbook do not offer Edit Bet.
FanDuel Sportsbook offering three of these features is impressive, with live streaming certainly giving them a leg-up on the competition that do not have it. Whilst early cashout and Same Game Parlay are standard across the industry at this point, FanDuel at least enhance the betting experience by clearly denoting which games offer these features.
The sportsbook used to offer NHL and soccer live streaming on top of table tennis and tennis, but these deals are no longer in place. At the very least, this gives us hope that FanDuel may be able to secure such rights in the future to add a better live streaming offering to their site.
FanDuel Sportsbook Live Sports Betting
FanDuel Sportsbook's live betting options are amongst the best in the industry. All sports are available for live betting and there is a strong range of markets available, many of which are eligible for early cashout.
Live betting at FanDuel Sportsbook
| | |
| --- | --- |
| Range of markets | Advanced |
| Live stats | Advanced |
| Ease of use | Easy |
| Live streaming options | Average |
The great thing about live betting on FanDuel Sportsbook is their Game View tab at the top of each event, allowing bettors to watch the game unfold in basic animation. There is also another tab for stats, and both of these are particularly helpful for events which are not live streamed on FanDuel Sportsbook.
Payment Methods at FanDuel Sportsbook
FanDuel Sportsbook have a decent selection of payment methods for bettors, albeit fewer than most other major other betting sites.
The variety is certainly enough to appeal to most customers, although not all of them can be used for withdrawing money so there is some restriction on that front.
There is a lack of specification on FanDuel Sportsbook's website about which credit and debit cards are accepted but they do suggest that some banks will decline payments to sportsbooks.
FanDuel Mobile App
FanDuel Sportsbook have a mobile app for both iOS and Android. The iOS app is available for iPhone, iPad and iPod Touch whilst the Android version can be downloaded onto phones and tablets using Android version 5.0 and up.
FanDuel's app itself is very good, with the design making it a seamless transition from the desktop website to mobile. It is easy to use with tabs at the top of the screen to choose your sport, as well as promotions on the carousel just below it.
The only major bugbear we found is the regular need to verify your location even when you haven't moved or are still connected to WiFi. Although not a deal breaker, this can get frustrating especially if it kicks you out as you are live betting or trying to place a wager.
Geo-location with FanDuel
FanDuel Sportsbook are only legally allowed to accept wagers in states they are licensed in and so location verification is required on both desktop and mobile.
To confirm your geolocation on desktop, you will need to download the GeoComply plugin from FanDuel Sportsbook's website. After installation, this will authenticate which state you are in and allow you to bet with FanDuel if the sportsbook is licensed there.
For app customers, your location services will need to be turned on in your phone or tablet's settings and that will determine whether you are able to bet with FanDuel Sportsbook. If your device is connected to WiFi, then the app will be able to detect your location automatically.
Is FanDuel Sportsbook Legit?
FanDuel Sportsbook is a legit betting site with licenses in 11 states in the US. This assures you that FanDuel Sportsbook is safe as they would not be able to operate in the US without these licenses.
FanDuel Sportsbook company info

| | |
| --- | --- |
| US licenses | AZ, CO, IA, IL, IN, MI, NJ, PA, TN, VA, WV |
| Other products | Casino, Fantasy, Horse Racing |
| Non-US licenses | None |
| Responsible gambling measures | Deposit limits, Spend limits, Time limits, Timeout, Reality Check, Deposit Threshold, Self-Exclusion |

| | |
| --- | --- |
| Year founded | 2009 |
| Owner | Flutter Entertainment |
| CEO | Peter Jackson |
| Publicly traded | NYSE, Euronext |
History of FanDuel
FanDuel are relatively new to the world of online sports betting compared to other betting sites but that has not stopped them from becoming a major player in the industry.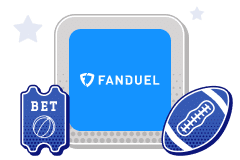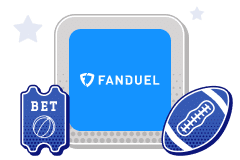 FanDuel founded
The company is officially founded in July 2009 as a Daily Fantasy Sports site.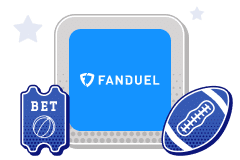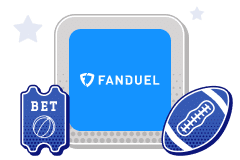 Wins award for Best Sports and Entertainment Startup
After little over a year of operating, FanDuel win The Europas' 'Best Sports and Entertainment Startup' award in November 2010.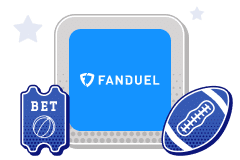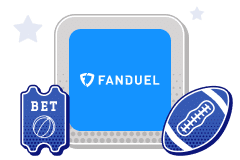 FanDuel acquired by Paddy Power Betfair
European sportsbook group Paddy Power Betfair buy a 61% controlling stake in FanDuel Group for $158 million.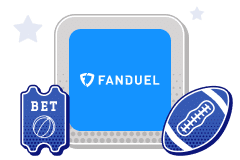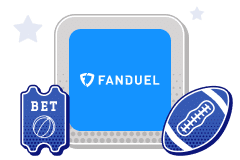 FanDuel Sportsbook launched
FanDuel open a physical sportsbook at Meadowlands Racetrack in New Jersey in July and begin taking online bets in the state in September.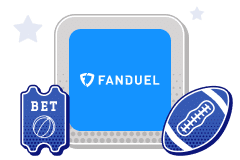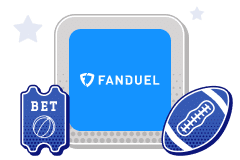 FanDuel partner with NHL
In a first, FanDuel becomes the first official daily fantasy and sports betting partner of the NHL.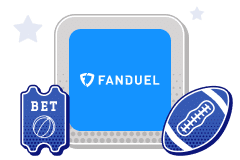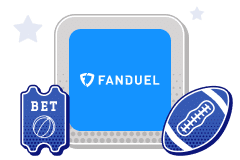 Wins Operator of the Year award
FanDuel is awarded Operator of the Year at the EGR North America Virtual Awards 2021, further underlining their place as one of the best betting sites available.
Why You Should Join FanDuel Sportsbook
FanDuel Sportsbook is one of the best betting sites in the US, giving bettors a fantastic experience thanks to their vast number of markets and competitive odds.
The fact that FanDuel Sportsbook is licensed in 11 states means it is available to a strong number of bettors, whilst their live betting offering is excellent for those who like to wager in-play.
Pros
Great odds

Wide range of betting markets

Live streaming

Referral program
Cons
Lack of promotions

Poor blog
We recommend joining FanDuel Sportsbook as they are an exciting brand with aspects that will appeal to almost all bettors.
There could do with being more promotions as other betting sites blow them out of the water on that front, but otherwise there is little reason not to sign up with FanDuel Sportsbook.
Alternatives to FanDuel Sportsbook
If this FanDuel Sportsbook review has not given you good enough reason to sign up for the site, there are lots of other options at your disposal: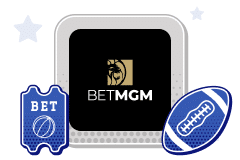 Strong range of promotions
Available in many states
Great blog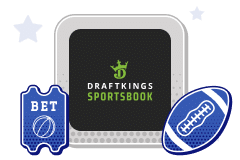 Fantastic odds
Live streaming
Excellent blog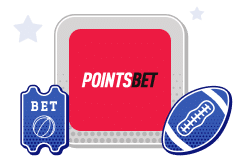 Very low margins
Generous welcome bonus
Live streaming
FAQs
Is FanDuel safe?
FanDuel Sportsbook is safe and legit. They are licensed to accept wagers in 11 US states by the appropriate regulator and are owned by sports gambling giants Flutter Entertainment.
Where is FanDuel Sportsbook legal?
FanDuel Sportsbook is legal in Arizona, Colorado, Iowa, Illinois, Indiana, Michigan, New Jersey, Pennsylvania, Tennessee, Virginia, and West Virginia. Keep in mind that this list can change since they are introducing new states all the time.
How old do you have to be for FanDuel Sportsbook?
You have to be 21 years old to bet at FanDuel Sportsbook. This is the same in every state where the betting site is licensed.
How long does FanDuel Sportsbook take to pay out?
FanDuel Sportsbook take between one day and 10 days to process payouts, depending on which payment method you have chosen for withdrawal.