DraftKings Sportsbook Welcome Bonus
DraftKings Sportsbook has one of the worst welcome offers of any betting site in the US, which is a 20% deposit match up to $1000.
This DraftKings sports betting bonus is available in all states where they operate and there is no DraftKings Sportsbook promo code required, but it will still only appeal to a few bettors.
DraftKings Sportsbook welcome bonus

| | |
| --- | --- |
| Max bonus | $1,000 |
| Bonus percentage | 20% |
| Wagering requirements | 25x bonus |
| Time to complete wagering requirements | 90 days |

| | |
| --- | --- |
| Expiry date | 7 days |
| Minimum odds | None |
| Bonus code | None |
| Sports restrictions | None |
Whilst this and the lack of DraftKings Sportsbook promo code will be attractive to some, it isn't enough to convince casual bettors to sign up when they can get risk-free wagers at the majority of other sportsbooks.
DraftKings Sportsbook Bonus T&Cs
Wagering requirements
DraftKings sportsbook imposes 25x wagering requirements which means that you'll have to wager $25,000 to release the full $1,000 welcome bonus. Sports betting, fantasy sports, and casino games are all eligible for wagering.
No minimum odds
There is no minimum odds requirement imposed on the DraftKings Sportsbook betting bonus, so you are free to bet on anything with it.
Only first deposit matched
Only your first deposit will be matched up to $1,000. If you have signed up or deposited before, you will not be eligible for the DraftKings Sportsbook betting bonus.
How to Claim DraftKings Sportsbook Sign-up Bonus
Claiming the DraftKings Sportsbook bonus is easier than at most other betting sites because you do not need to place a bet. As well, you do not need to enter a specific DraftKings Sportsbook promo code to claim the bonus.
1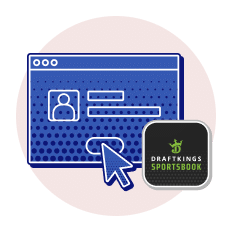 Register
Sign up for an account with DraftKings Sportsbook.
2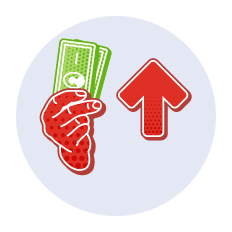 Deposit
Fund your account to activate the bonus.
3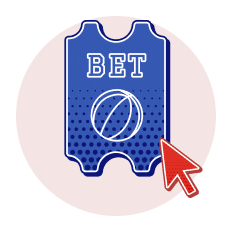 Bet
Your deposit will be matched up to $1,000 to bet with.
You will need to supply DraftKings Sportsbook with the last four digits of your Social Security Number when you sign up. This allows them to verify your identity and enable you to claim the DraftKings Sportsbook bonus.
DraftKings Sportsbook Sports Betting
DraftKings Sportsbook have a decent sports betting page, displaying the list of sports on the left as well as a handful of popular events.
The main problem is that the 'popular events' section is seemingly random. Whilst writing this DraftKings Sportsbook review, the list was populated with European soccer leagues instead of sports like NFL and MLB.
It is still easy to navigate directly to a league as each sport opens a secondary menu with each league or event, but this is an extra step that could be avoided.
Betting at DraftKings sportsbook explained
Sports Available to Bet On
The range of sports available to bet on at DraftKings Sportsbook is decent but they provide a fairly rudimentary list compared to other major betting sites like BetMGM.
DraftKings have the sports you would expect to find like NFL, MLB, NBA, NHL, college sports and soccer. Soccer bettors are likely to be particularly happy, given the wide variety of leagues we found available to wager on during this DraftKings Sportsbook review.
The sportsbook offers only 18 sports in total, which is significantly fewer than the 28 at BetMGM, although it is the same as FanDuel Sportsbook.
Other Sports
DraftKings Sportsbook provide bettors with a reasonable range of more niche sports, which should be enough to sate most customers.
Australian Rules
Baseball
Basketball
Boxing
Cricket
Darts
Football
Golf
Handball
Hockey
MMA
Motorsports
Rugby League
Rugby Union
Soccer
Softball
Table Tennis
Tennis
Odds Comparison
DraftKings Sportsbook is one of the best US betting sites for odds, routinely offering best prices on major sports. At the very least, they are usually competitive when other sportsbooks have better odds.
However, they usually get beaten on closing lines – the odds that are available just before an event starts – and so it is usually worth betting early with them.
DraftKings Sportsbook
BetMGM
FanDuel Sportsbook
PointsBet
Home – Dallas Cowboys
-190
-190
-184
-190
Away – Philadelphia Eagles
+160
+160
+154
+160
Home handicap
-3.5
-105
-4.0
-110
-3.5
-106
-3.5
+100
Away handicap
+3.5
-115
+4.0
-110
+3.5
-114
+3.5
+100
DraftKings Sportsbook Blog and Betting Picks
DraftKings have a blog called DKNation and it is one of the better ones out there, offering coverage of a variety of sports as well as news and highlights.
There is also a weekly podcast available on the blog for people who prefer to consume media in that format, although it is only NFL.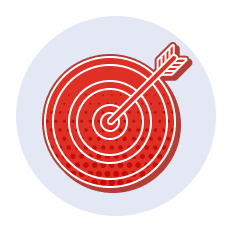 Relevancy
DKNation is very relevant, providing fantasy help and betting tips as well as general sports news that could help bettors.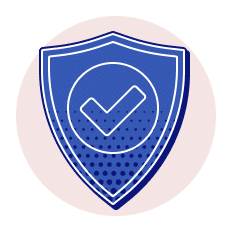 Reliability
DKNation are reliable in the sense of their information being up-to-date and tips being logical.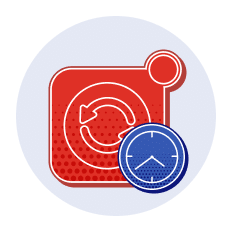 Update frequency
DKNation is updated dozens of times per day. They are mostly short posts but they do the job of keeping readers updated with news that could impact betting.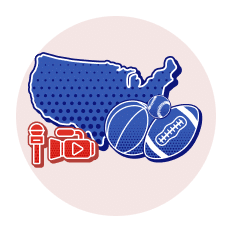 US sports coverage
All of DKNation's posts are about US sports. NFL dominates the blog but there is plenty of other sports like MLB, UFC and golf.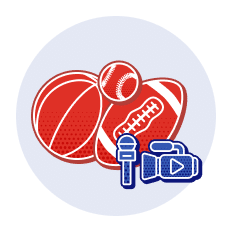 Other sports coverage
DKNation does not do posts about non-US sports.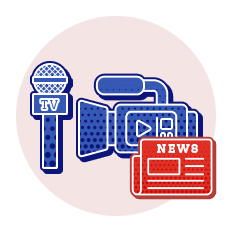 Media format
Most of DKNation's posts are text posts but they do have one podcast, which is focused on NFL and can be easily accessed via the menu at the top.
DKNation is excellent for all bettors both new and experienced, with frequent updates and extremely helpful tips that can be applied to wagering.
They could be more helpful in tagging what is directly related to betting but otherwise, DraftKings Sportsbook runs an exceptional blog.
Bet Slip
DraftKings Sportsbook boast a strong bet slip that is extremely user-friendly which makes it easy to see exactly what you are betting on.
Adding multiple selections unlocks the parlay and teasers options, with DraftKings Sportsbook providing handy information about exactly what those bets are.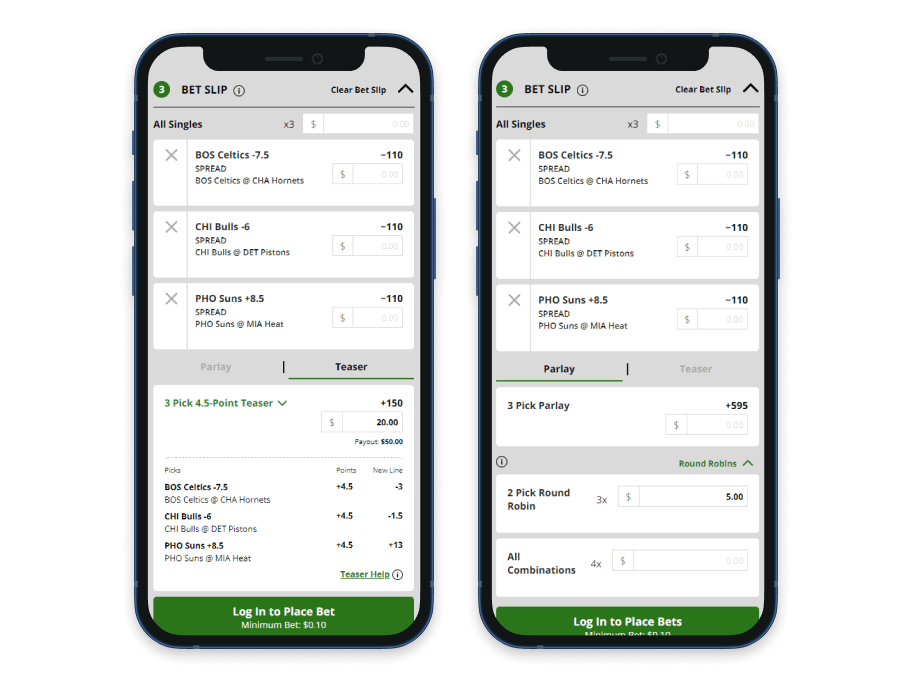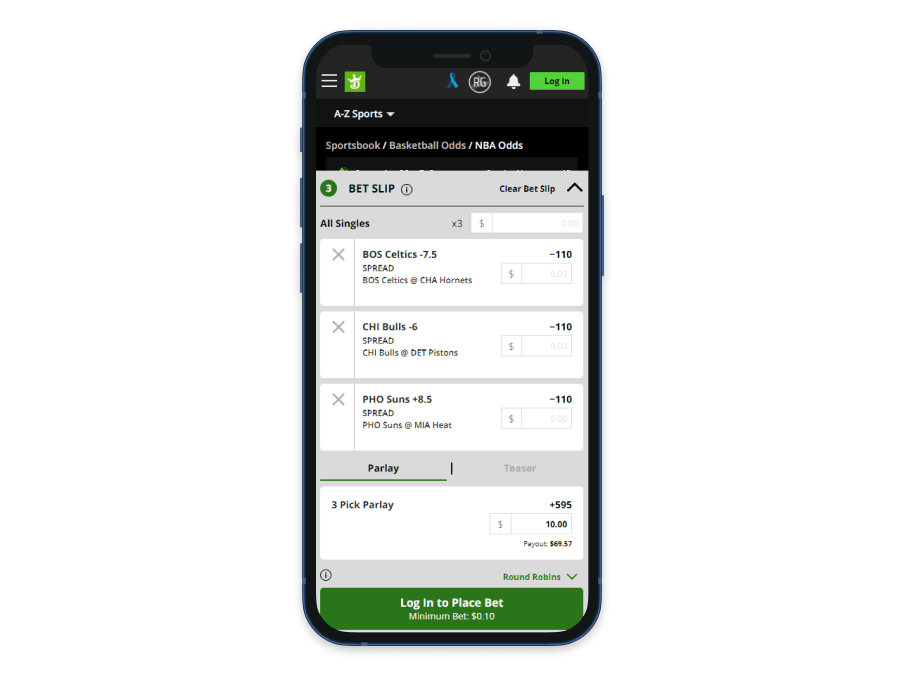 Betting Markets
Research for this DraftKings Sportsbook review found they have plenty of markets to bet on for all sports fans – particularly excelling in player props. NFL bettors will particularly enjoy the range of props for skill position players as well as defense and special teams.
Spread
Total
Moneyline
Game Props
Team Props
Player Props
Quarter Betting
Half Betting
Specials
NFL
DraftKings Sportsbook are one of the best NFL betting providers in the US, offering a fantastic range of markets that appeals to all football bettors.
Prop bets are particularly enticing, with DraftKings giving odds on bets for quarterbacks, running backs, receivers, kickers, and defenders.
NFL
| | |
| --- | --- |
| Margins | 4.8% |
| NFL betting markets | 124 |
| Odds | Competitive |
| Min/max bet | $0.10/variable |
| Promotions | NFL risk-free same game parlay |
Having leading odds on NFL is always a good thing and combined with the variety of player props makes DraftKings Sportsbook an elite NFL betting provider.
Football Promotions at DraftKings Sportsbook
DraftKings Sportsbook have just one NFL promotion and whilst this is fewer than other major betting sites such as BetMGM and PointsBet, it still holds plenty of appeal.
NFL risk-free same game parlay
Place a Same Game Parlay on any NFL game and if your bet loses, DraftKings will credit your bet back up to $25 as a free bet. This promotion can only be leveraged once per week.
It's a shame that DraftKings Sportsbook only offer a single football promotion but it is enticing, especially for bettors who are going to place a Single Game Parlay anyway.
NBA
The NBA season was still weeks away when this DraftKings Sportsbook review was carried out and so their offering was still minimal.
There is still a select amount of markets on top of the regular spread, moneyline and total, but there are no player props as of yet.
NBA
| | |
| --- | --- |
| Margins | 4.8% |
| NBA betting markets | 55 |
| Odds | Competitive |
| Min/max bet | $0.10/variable |
| Promotions | None |
There is no doubt that DraftKings will add more NBA markets as the season draws closer.
Basketball Promotions at DraftKings Sportsbook
DraftKings Sportsbook do not have any basketball promotions running. It would be advantageous for them to offer some when the season starts.
NHL
DraftKings Sportsbook have only a limited range of NHL markets as the season was not underway. It is expected that they will update this soon.
NHL
| | |
| --- | --- |
| Margins | 4.8% |
| NHL betting markets | 47 |
| Odds | Competitive |
| Min/max bet | $0.10/variable |
| Promotions | None |
Ice Hockey Promotions at DraftKings Sportsbook
There are no hockey promotions available at DraftKings Sportsbook yet, but they may add some as the season draws closer.
MLB
DraftKings Sportsbook is one of the best betting sites for MLB betting in terms of odds, offering industry-leading prices on many baseball games.
For instance, we looked at a full slate of fixtures and found that DraftKings had the best moneyline price in nine of the 16 games.
However, their lack of markets very much lets them down, offering fewer than other leading sportsbooks like BetMGM and FanDuel.
MLB
| | |
| --- | --- |
| Margins | 3.5% |
| MLB betting markets | 49 |
| Odds | Strong |
| Min/max bet | $0.10/variable |
| Promotions | None |
Despite their strong odds, which is certainly a good enough reason to bet with DraftKings Sportsbook, the poor range of markets could do with being corrected.
Baseball Promotions at DraftKings Sportsbook
DraftKings Sportsbook do not offer any baseball promotions, which puts them behind the likes of PointsBet and BetMGM.
Even just one baseball promotion would be good for DraftKings Sportsbook to have as it would make their betting site more appealing.
NCAA
Every college football and basketball game is available to bet on at DraftKings Sportsbook, although some regulations do prohibit the markets they can offer in certain states. This is true of every legal US betting site.
That aside, DraftKings have very competitive college football odds and margins that rival other sportsbooks.
NCAA
| | |
| --- | --- |
| Margins | 4.8% |
| NCAAF betting markets | 26 |
| Odds | Competitive |
| Min/max bet | $0.10/variable |
| Promotions | None |
NCAA Betting Promotions at DraftKings Sportsbook
DraftKings Sportsbook have one NCAA football promotion, which gives bettors the chance to boost their parlay winnings each weekend.
College football parlay boost
Earn a 33% profit boost on any 5+ leg college football parlay.
This promotion is particularly enticing to people who bet on college football anyway and is an extra reason to sign up with DraftKings Sportsbook.
DraftKings Sportsbook Betting Features
DraftKings Sportsbook are solid if unspectacular when it comes to betting features, giving bettors at least some control over their wagering experience.
Early cashout

Early cashout lets bettors settle their wager early in exchange for a pre-determined amount. DraftKings do not show which bets are available for early cashout, so you will only find out if your wager is eligible after you have placed it.

Live streaming

DraftKings Sportsbook have signed an agreement to offer live streaming of MLB. However, it is not known when this will start or how many games per day will be available to watch.

Bet builder/Same game parlay

Same Game Parlay is available on NFL, MLB, NHL, NBA and select soccer leagues, allowing bettors to put multiple selections from the same game into one bet. DraftKings Sportsbook offer a convenient toggle at the top of each event where Same Game Parlay is offered.

Easy parlay

DraftKings Sportsbook does not have an option for easy parlays.

Edit bet

DraftKings Sportsbook does not let you edit your bet after it has been placed.
Early cashout and Same Game Parlay are both available at most legal betting sites in the US but live streaming is definitely a bonus for DraftKings Sportsbook.
DraftKings Sportsbook Live Sports Betting
DraftKings Sportsbook offer live betting on a wide range of sports, with a strong number of markets available on even more niche events.
It is easy to navigate to live betting as the homepage shows some events that are in-play, whilst there is a tab at the top of the page that takes you to all live games.
Live betting at DraftKings Sportsbook
| | |
| --- | --- |
| Range of markets | Advanced |
| Live stats | Basic |
| Ease of use | Easy |
| Live streaming options | Basic |
DraftKings Sportsbook could improve their live betting offering by having more stats available on games, which would make it easier for bettors to make an informed decision without leaving the site.
Payment Methods at DraftKings Sportsbook
The amount of deposit methods at DraftKings Sportsbook suits almost all bettors. Both online and in-person payments are offered, with all but two available for withdrawal as well.
DraftKings Sportsbook make it as easy as possible to deposit and withdraw from their site thanks to the number of options available for bettors.
DraftKings Sportsbook Mobile App
DraftKings Sportsbook have apps for both Apple and Android users. The iOS app can be downloaded onto iPhone and iPod Touch from the App Store, whilst the Android version is available from Google Play.
The DraftKings Sportsbook app itself is unfortunately riddled with problems, with the main one being that it struggles to maintain geo-location, often displaying an error even when still in the state.
As well, the DraftKings Sportsbook app also has a habit of freezing far too regularly which can make it extremely frustrating when placing time-sensitive wagers.
Geo-location with DraftKings Sportsbook
You must be in one of the states where DraftKings Sportsbook has a license as they cannot accept bets from other locations. Even if you signed up or live in a legal state, you still cannot bet if you are in an unlicensed state.
DraftKings Sportsbook use Geocomply location software to determine your location and whether you are able to bet with them. This plugin detects which state you are in.
Your phone's geo-location has to be turned on to bet from the DraftKings Sportsbook app. If you are connecting via WiFi then your location will be detected automatically.
Is DraftKings Sportsbook Legit?
DraftKings Sportsbook is a legit betting site with licenses in 14 states. They are regulated by the appropriate commission in each state and have been an active sportsbook since 2018.
DraftKings Sportsbook company info

| | |
| --- | --- |
| US licenses | AZ, CO, IA, IL, IN, MI, NH, NJ, PA, TN, VA, WV, WY |
| Other products | Casino, daily fantasy |
| Non-US licenses | None |
| Responsible gambling measures | Deposit Limits, Wagering Limits, Time Limits, Self-Exclusion |

| | |
| --- | --- |
| Year founded | 2012 |
| Owner | DraftKings Inc. |
| CEO | Jason Robins |
| Publicly traded | NASDAQ |
History of DraftKings Sportsbook
DraftKings is one of the leading names in daily fantasy sports and have existed as a sportsbook since online wagering first began to be legalized across the US.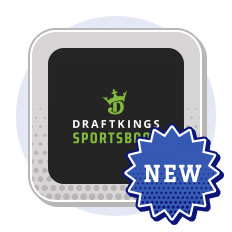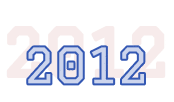 DraftKings founded
DraftKings launch in Boston as a daily fantasy provider, with their first contest being in baseball.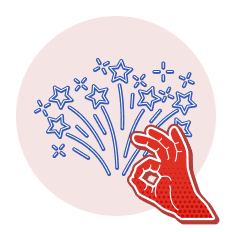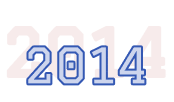 DraftKings reaches 1m active users
DraftKings hit one million registered users after only two years of operating.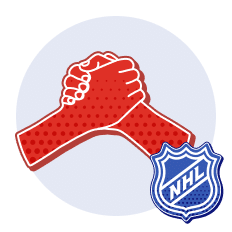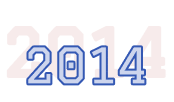 Partners with NHL
DraftKings sign a deal to become the official daily fantasy sports service of the National Hockey League.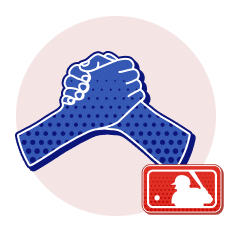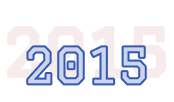 Partners with MLB
Similar to the NHL deal, DraftKings then become partnered with Major League Baseball.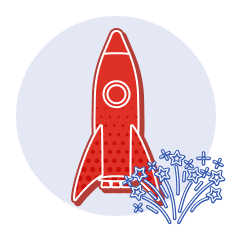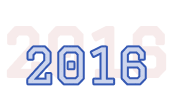 UK launch
DraftKings take their Daily Fantasy Sports offering to the UK, having been granted a license by the Gambling Commission.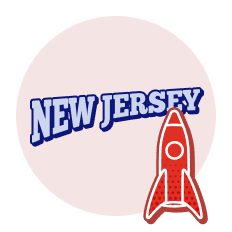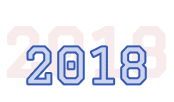 New Jersey sportsbook launches
Following the legalization of online sports wagering, DraftKings launch their first sportsbook in New Jersey in August 2018.
Why You Should Join DraftKings Sportsbook
We recommend using DraftKings Sportsbook as they offer some of the best and most consistent odds in the betting industry.
As well, the fact it is offered in 14 states means you have a good chance of being able to use it on the road, especially compared to sportsbooks that are only licensed in one or two.
Pros
Fantastic odds

Strong NFL and MLB betting

Great blog
Cons
Terrible app

Lack of promos
DraftKings Sportsbook could do with serious improvement in their promotions to keep pace with their competitors, whilst the app needs a serious overhaul.
Alternatives to DraftKings Sportsbook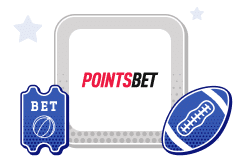 Generous welcome bonus
Low margins
Live streaming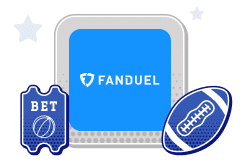 Great odds
Live streaming
Referral program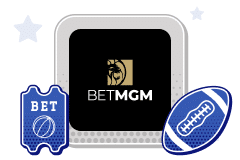 Available in many states
Great blog
Strong range of promotions
FAQs
Where is DraftKings Sportsbook legal?
DraftKings Sportsbook is legal in Arizona, Colorado, Iowa, Illinois, Indiana, Michigan, New Hampshire, New Jersey, Pennsylvania, Tennessee, Virginia, West Virginia, and Wyoming. Keep in mind that new states are introduced all the time.
How do you withdraw money from DraftKings Sportsbook?
Navigate to 'My Account' on DraftKings Sportsbook and click on 'Withdraw' on the left-hand side. Then type in the amount you want to withdraw, press continue, and select which payment method you want to use.
How to do a teaser on DraftKings Sportsbook?
Add up to six spread selections to your DraftKings Sportsbook bet slip and press teaser at the bottom to select the points adjustment. This adjusts the odds and from there you can decide how much to wager.
How to place a bet on DraftKings Sportsbook?
Sign up for a DraftKings Sportsbook account and deposit via your chosen payment method. Click on the selection you want to make, type in your stake and press 'Place Bet'.
How old do you have to be for DraftKings Sportsbook?
You must be 21 or older to sign up for and place a bet on DraftKings Sportsbook. This will be verified during registration as part of the 'Know Your Customer' (KYC) process.
How do you use DraftKings Sportsbook app?
Download the DraftKings Sportsbook app from either the Apple App Store or Google Play. Location services on your phone needs to be turned on so that your geo-location can be verified to determine whether you are in a licensed state.