Online Sports Betting in the US
Online sports betting has taken the US by storm since it was legalized in 2018 and the massive number of legal sportsbooks makes it difficult to know where to begin.
We have all the information you need to get started with online sports betting, including the best sportsbooks, the most popular bet types, and which sports you can bet on.
Best Sports Betting Sites in 2023
There are so many US betting sites to choose from and each one offers different things that cater to different bettors.
Using strict criteria, our team of US betting experts have narrowed them down to the best seven sportsbooks.
The best US sportsbooks are ones that have extremely competitive odds, an attractive welcome bonus, and generally offer a good betting experience.
Top Sports Betting Sites by Category
No betting site is perfect at everything and even the ones we rate at the top may not be right for your wagering desires.
Some sportsbooks can be brilliant at some aspects but terrible at others, so we have tested each betting site and chosen winners for major categories.
| | |
| --- | --- |
| Best sports betting odds | |
| Best live betting site | |
| Best sports betting markets | |
| Best NFL futures | |
| Best sports betting bonuses | |
| Best sports betting app | |
| Best for new players | |
| Best selection of sports | |
Sports Betting Sites to Avoid
Hidden amongst the many legal US betting sites are a few offshore sportsbooks.
These are usually based in the Caribbean or Central America but can accept customers from the USA despite not being licensed.
As such, offshore betting sites should be avoided as there is basically nothing you can do if they decide to keep your money or if they grade a bet incorrectly.
They also employ extortionately high fees for deposits and withdrawals.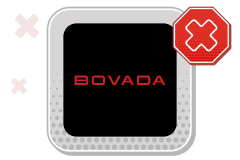 No US license
High transaction fees
No app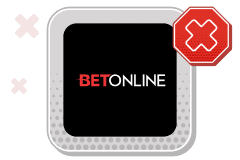 No US license
High minimum deposit
Withdrawal fees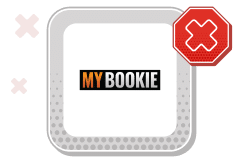 No US license
High deposit and withdrawal fees
Withdrawals take over a week
How to Bet on Sports
Learning how to bet on sport is why you're here and whilst it can appear overwhelming, it's quite straightforward to wrap your head around it once it's broken down.
1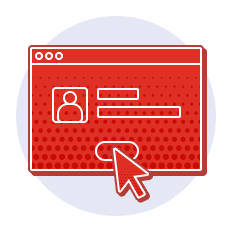 Register account
Follow the instructions on the betting site to sign up for an account, utilizing the welcome offer to get the most out of the sportsbook.
2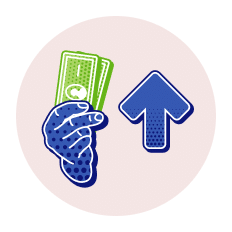 Deposit
Fund your new account with one of the deposit methods available on the betting site, like PayPal, VISA and Bank Transfer
3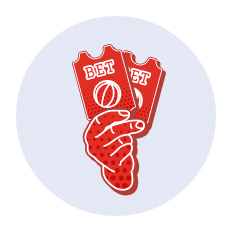 Find the game you want to bet on
Navigate to the sport and then the game using the tabs on the betting site.
4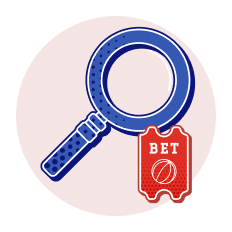 Find the market
After selecting the game, choose the market. The most popular selections, such as spread and moneyline, are usually displayed first followed by other markets
5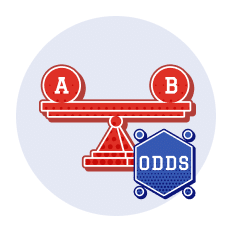 Compare odds to other betting sites
Check other sportsbooks to see if you can get better odds on the exact same market
6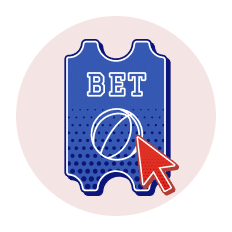 Place the bet
Decide how much you want to wager in the betslip and place the bet, then wait for it to settle
What Sports You Can Bet on in the US?
Betting sites offer a huge variety of sports to wager on – some more than others – which presents bettors with a world of opportunity.
Bigger sportsbooks usually have more niche sports, but any worth their license will, at the very least, have the 'big four' as well as the likes of soccer and tennis. Apart from the most popular leagues, US sportsbooks also cove all big international events, such as the upcoming soccer World Cup in Qatar.
If you want to learn more about betting on any of these sports, click the icon below to visit some of our in-depth betting guides.
Most Popular Sports for Online Betting
The big four or American sports get by far the most viewership in the States. It's estimated that around 80% of bets go to basketball, football, basketball, and hockey. They are the fan's favorite by a large margin, so every sportsbook offers an abundance of betting options for each of them.
Sports Bet Types
There are many different types of sports bets you can place and at the very least, you should become accustomed with the most popular ones.
The concepts of these bets can be applied to other types not mentioned below, which will give you a rounded understanding of betting markets.
Spread Betting
The spread is the handicap applied to the team you bet on.
This can be positive or negative, depending on how likely the team is to win the game, and you win the bet if your team has more points than the other after the handicap has been added.
This is also called the run line in baseball and the puck line in hockey.
Example: Chicago Bulls are -1.5 favorites against Los Angeles Lakers. If the Bulls win by two points or more then they will cover the spread and bets placed on Bulls -1.5 will be successful. If the Lakers win, or lose by exactly one point, then they will have covered the spread and bets on Lakers +1.5 will be paid out.
Moneyline Betting
Moneyline betting is simply wagering on which team will win the game, with no other conditions attached.
The more likely a team is to win, the shorter their odds, and so betting on favorites means you will win less than you risk. Remember, you do still get your initial stake back on all wins.
Example: Chicago Bulls are -115 to beat Los Angeles Lakers. A $10 wager on that will return $8.70 in winnings plus your initial stake for a total of $18.70 if the Bulls win.
Conversely, the same wager on the Lakers at -105 returns a total of $19.50 – $9.50 in winnings and the $10 stake.
Totals Betting
Totals is the other major betting line along with spread and moneyline, and simply refers to how many points, runs or goals will be scored in a game.
Each game is given a projected total, and you can bet on whether the actual total of points, runs, or goals, will be higher or lower.
The projected total set by the betting site almost always ends in a half-point as this removes any doubt as to whether the actual total is higher or lower.
Example: The points total for Chicago Bulls vs Los Angeles Lakers is set at 216.5 points. If 216 points or more are scored by both teams combined, then the overs will win. If 215 points or fewer are scored, the unders wins.
Futures Betting
Futures are bets that are settled as a result of the entire season, rather than just a single game.
These best, also known as outrights, can be on anything from the winner of the Super Bowl or World Series to MVP winner to which team will get the number one playoff seed.
The possibilities are limited by only a sportsbook's willingness to take bets on something and if you search around enough, you'll likely find a legal US betting site that has the market you want.
Some sportsbooks offer early cash out on futures bets so you can collect at least some money if you are not confident the bet will be successful as the season goes on.
Example: Tampa Bay Buccaneers are +650 to win the Super Bowl. A $10 wager on this would return a total of $75 if the Bucs win the Super Bowl.
Parlay Betting
Parlays are extremely popular bets because they allow you to bet on multiple games in the same bet, giving you the chance to win big from a small stake. Every leg has to win for the parlay to pay out.
Instead of betting on each selection individually, you can combine them all into one wager.
The potential returns increases with every selection, but the chance of winning also goes down.
Example: Philadelphia Eagles -1.5, New York Jets +3 and Indianapolis Colts +7 are all priced at -110 and a parlay of these three selections pays out at +595. A $5 wager on that returns a total of $34.78.
Prop Betting
Prop bets are wagers on how well – or how badly – a player will perform in a single game.
They are short for proposition and, like totals wagers, bettors have the option to go over or under the projected number presented by the sportsbook.
Props can be offered on anything easily quantifiable, such as points scored in basketball, rush attempts in football, hits in baseball, or shots on goal in hockey to name but a few.
Example: Anthony Davis' points line is set at 28.5. Overs bets will win if he scores 29 points or more, whilst bets on the under wins if he only manages 28 or fewer.
Sports Betting Odds Explained
The American odds format is certainly confusing for newcomers as it does not lend itself to be easily understood.
What is +200? Why is there a minus in front of some odds?.
Odds that begin with a plus signifies the amount you would win from a theoretical $100 wager. You don't have to bet exactly $100 on every wager; it can be any amount you like within the rules of the betting site.
If the number begins with a minus then that is the amount you have to wager to theoretically win $100. Like plus odds, you don't have to bet that exact number – it is just how the odds are presented.
Most sportsbooks will allow you to change the odds format to either fractional or decimal, which are both easier to understand.
Decimal odds simply display the total amount you win from a $1 wager (including the initial stake), whilst fractional shows how much you will win on the left by betting the amount on the right.
Example: Brooklyn Nets are -150 (1.67 in decimal or 4/6 in fractional) to beat Golden State Warriors. A $10 wager on this will return a total of $16.67.
On the flip side, the Warriors are +130 (2.30 in decimal and 13/10 in fractional) to beat the Nets. $10 on this would return $23 if Golden State are victorious.
Sports Betting Bonuses
Betting bonuses are rewards given to you by sportsbooks for signing up and placing wagers with them.
Sportsbooks offer all kinds of different betting promotions. They usually come in the form of free bets but can also be enhanced odds boosters, allowing you to get greater returns on wagers.
| | | |
| --- | --- | --- |
| Bonus type | How it works? | What do you get? |
| Sign-up offers | Rewards added to your account for signing up. | Get it just for signing up – usually has wagering requirements. |
| Matched deposit bonuses | The betting site matches your deposit in bonus funds. | Get extra money on deposits – has short expiry time. |
| No deposit bonuses | Extra bonus funds added to your account without the need to deposit. | It's free money that you get without spending your own – usually very small amounts. |
| Free bets | Allows you to place a wager without spending your own money. | Can put bets on without spending your own money – stake not included in returns. |
| Enhanced odds | Sportsbook boosts odds on certain games or selections to give you better returns. | More returns and better prices offered to you – odds tend to only be slightly boosted. |
Live Sports Betting
Live sports betting allows you to place bets on games as they are being played.
This opens up a new world of wagering possibilities because it means you are not just relying on pre-match stats and analysis.
You can instead bet on how players are playing. Even the best players have off-days and if a wide receiver is struggling to get free or a center can't finish in the paint, you can make bets based on that.
Most live betting sportsbooks cover major sports although the variety of markets differs by betting site, with bigger ones offering more as they have more resources to trade in-play.
Offering live betting requires sportsbook employees to adjust odds on the fly.
Not all sports or events will be available for live betting, especially more niche leagues. For instance, you would be able to bet in-play on NFL games but you would struggle to find live betting on Serbian second-tier soccer.
Pros
Can bet based on how the game is going

More potential value

Hedge pre-game bets

Bet whilst you watch

Change strategy during a game
Cons
Easy to get carried away

Bet delay can lead to rejected wagers

Have to react quickly
Sports Betting Apps
Every operator worth betting with has a sportsbook app available for both iOS and Android, which can be downloaded from the App Store and Google Play.
Betting on an app obviously means you don't have to be in front of a computer and gives you the opportunity to bet anywhere within a legal state.
The betting features available on apps are the same as on desktop websites, so you're not missing out on anything by using the app.
In some cases, sportsbooks may even give you bonus funds for betting on the app.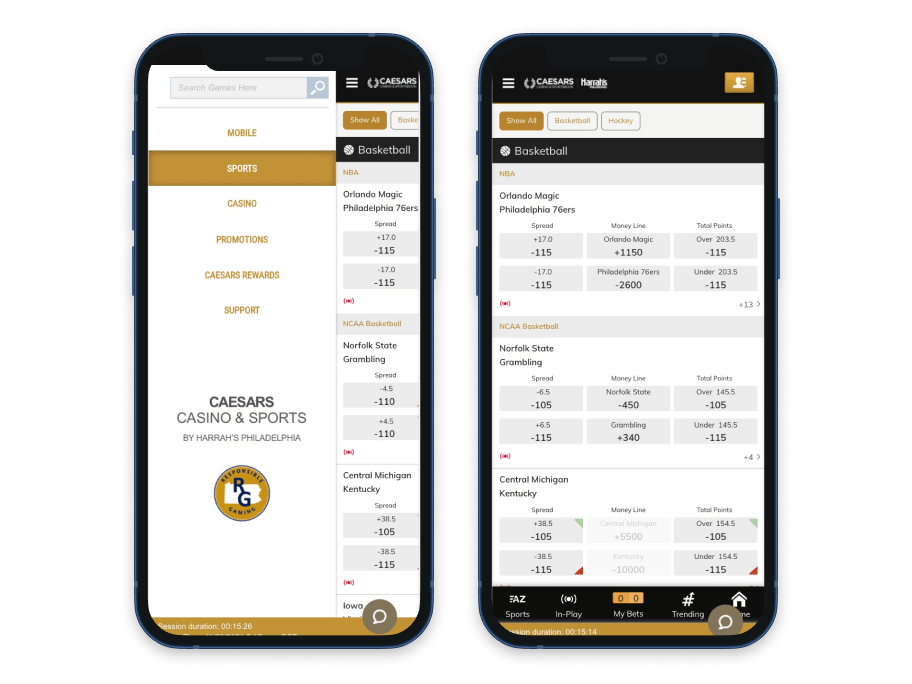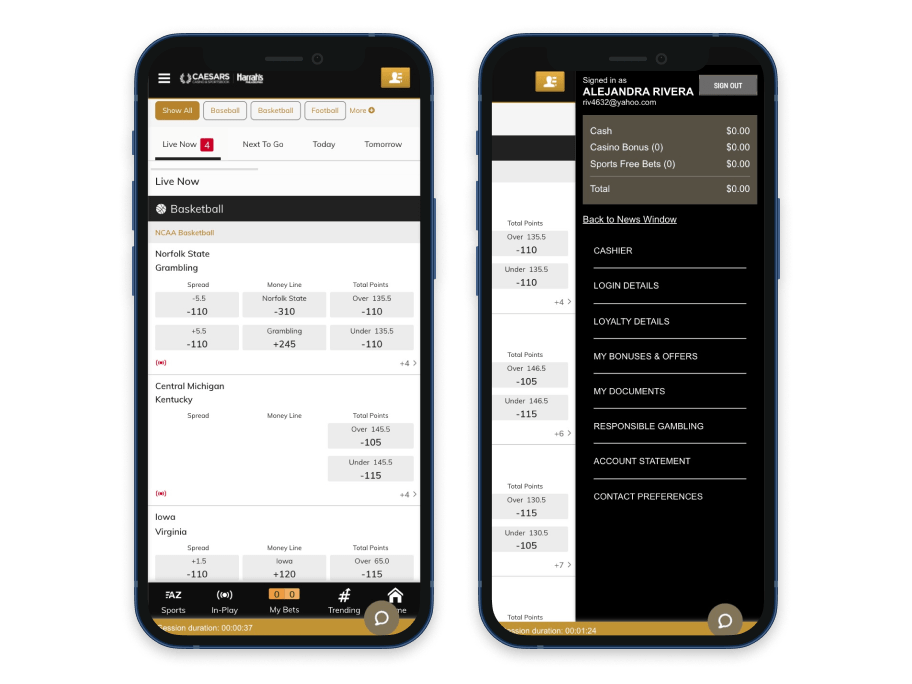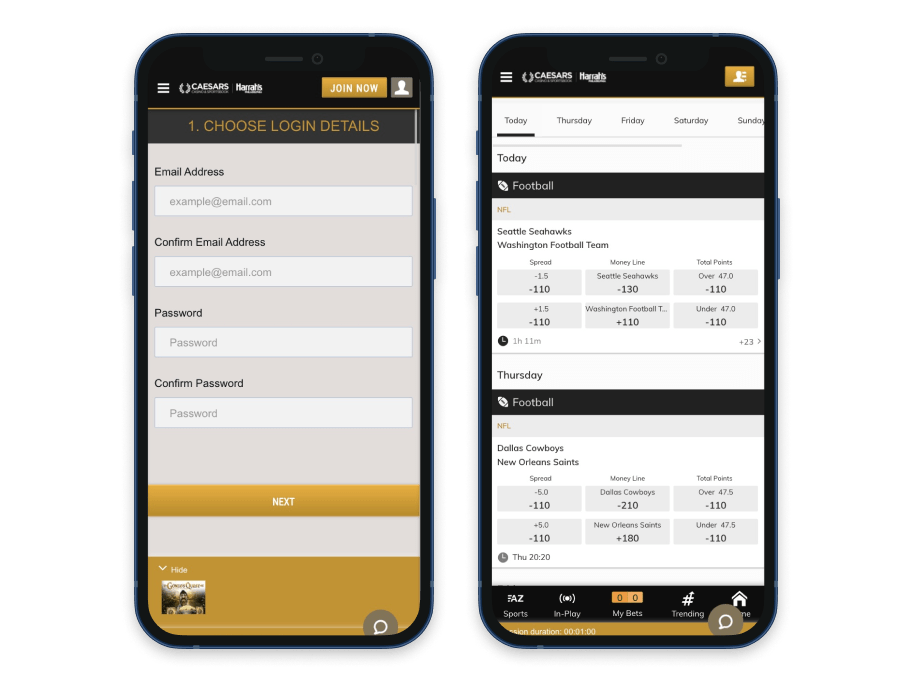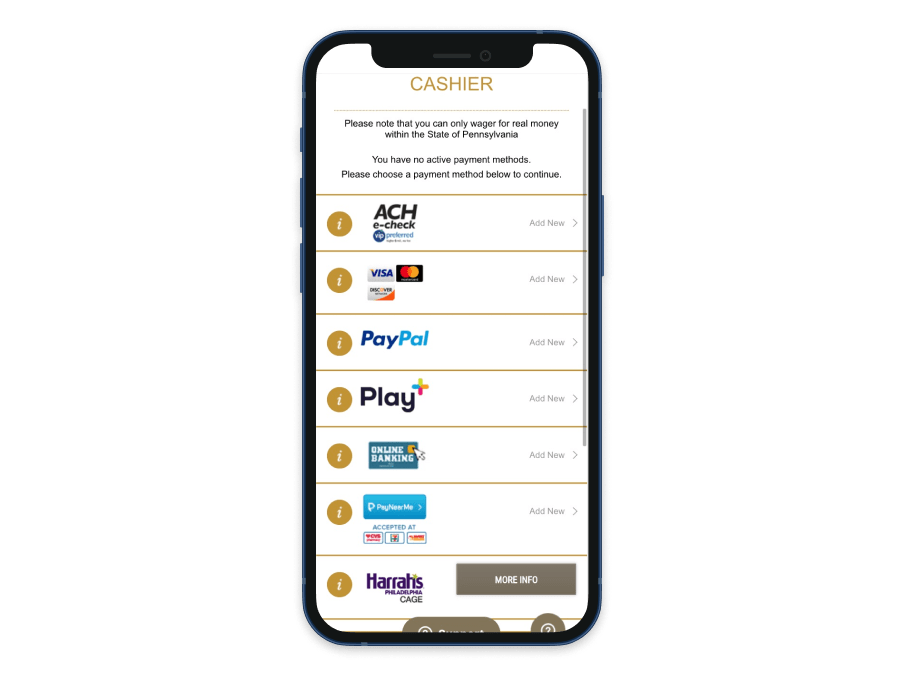 Where is Sports Betting Legal?
Online sports betting has grown exponentially since being legalized in 2018. As of now, over one-third of the 50 US states have full online legal sports wagering.
You can use the table below to find out more about sports betting in any of the listed states.
| | | | |
| --- | --- | --- | --- |
| Arizona | Colorado | Connecticut | Florida |
| Illinois | Indiana | Iowa | Michigan |
| Montana | Nevada | New Hampshire | New Jersey |
| Oregon | Pennsylvania | Rhode Island | Tennessee |
| Virginia | West Virginia | Wyoming | |
Betting Laws in the US
The key law that was overturned in 2018 was the Professional and Amateur Sports Protection Act of 1992, with the US Supreme Court ruling it to be unconstitutional.
This judgment legalized online sports wagering at a federal level, allowing each state to legislate for it if they want to. There is no pressure on any state to legalize sports wagering if they do not wish to do so.
Each state has different priorities when it comes to online sports wagering and many have it in their crosshairs to legalize in the next few years.
Only Idaho, Utah, Wisconsin and South Carolina are yet to introduce a bill to legalize it.
Sports Betting Tips and Strategies
Having a clear betting strategy is important as this can help you to place bets that are more likely to succeed.
There is no 'silver bullet' to guarantee that you win every bet, but the following tips can help you out in your wagering.
Conclusion
Now you have the information you need to bet, including what sports you can wager on and how to read odds, all that is left to do is go and place wagers.
It is important to note that more popular markets, such as spread, moneyline and totals, tend to be more difficult to win on as they don't usually provide much value unless you get on them very early.
Value bets are bets that you believe have a greater chance of coming in than the odds suggest.
FAQs
How to bet on sports online?
Sign up to a legal US betting site that is available in your state and deposit using one of their accepted payment methods. Decide what to bet on and how much you want to wager, then place your bet. Your wager will usually be settled after the game
Where is sports betting legal?
Sports betting is legal in over one-third of US states and that list will continue to grow as more states legislate for online sports wagering, allowing them to provide licenses to operators.
Where can I bet on sports?
You can bet on sports at any legal US betting site, with the popular ones including DraftKings, FanDuel, BetMGM and PointsBet. It is important that you choose a licensed sportsbook as this provides you with safety and security when wagering.
What is a parlay in sports betting?
A parlay is a bet consisting of multiple selections, giving you the chance to win big from a small stake. Every leg has to win for the parlay to pay out, but as more selections are added to a parlay, the less chance it has of winning.
How do sports betting odds work?
Odds with a minus in front of them shows the amount you theoretically have to wager to win $100. Odds with a plus is the amount you would win from a successful $100 wager. This is known as the American Odds format and you can change this into a more user-friendly style such as Decimal.