ParlayPlay is one of the newest daily fantasy sports sites and have already created an entertaining service that is easy for new players to understand.
Instead of playing against other users like on traditional DFS sites, you simply play against the house and there's no salary cap in any of their contests.
Pros
Simple to understand and play

Good welcome bonus of up to $100

Not playing against DFS professionals

No need to stick to a salary cap
Cons
Max winnings is only $250

Fewer sports than other DFS sites
The ParlayPlay layout keeps things simple and they offer a decent welcome bonus that is enough for players to get the hang of how to enter contests.
ParlayPlay don't offer a huge selection of sports, with just six in total, but the big four US leagues plus a good range of soccer leagues are all available.
You're also not playing against professional DFS players so there's no worrying about finding differentials or selecting low-owned athletes. However, this means that prizes are much lower than on other sites
ParlayPlay Promo Code
ParlayPlay offer a $100 matched deposit bonus to all new players at the daily fantasy sports site, which is a good welcome bonus.
There is no ParlayPlay promo code required to claim the welcome offer so it's a case of just depositing using an available method and waiting for the bonus to be credited to your new account.
ParlayPlay promo code

| | |
| --- | --- |
| Max bonus | $100 |
| Bonus percentage | 100% |
| Bonus expiry time | 30 days |
| Wagering requirements | 1x |

| | |
| --- | --- |
| Bonus code | None |
| Contest restrictions | None |
| Sports restrictions | None |
| Restricted states | None |
A $100 matched deposit isn't the best welcome offer out there but it's good enough and gets you started with a few contests at ParlayPlay.
The bonus amount you receive is 100% matched to your first deposit up to $100. To get the full $100, you have to fund your account with $100 or more in real money. If you only deposit $25, for instance, you will receive $25.
You receive a $5 free entry when you register, even if you don't deposit, and this can be used to enter contests instead of real money.
How to Claim ParlayPlay Bonus
It is easy for new players to register with the DFS site and you don't have to remember a ParlayPlay promo code, so it's simply a case of filling in the appropriate information when prompted.
1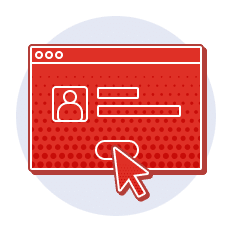 Open your account
Register for a ParlayPlay account by filling in your details, including a username and password.
2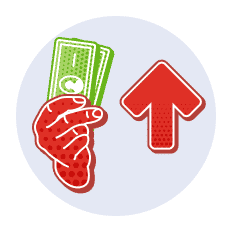 Deposit
Use any of the accepted payment methods to fund your account.
3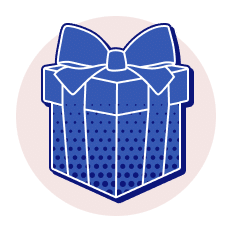 Receive bonus
ParlayPlay will match your first deposit up to $100 in bonus funds.
4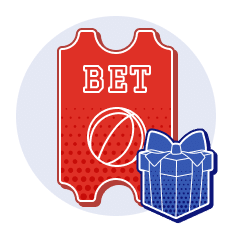 Use bonus
Play through your bonus within 30 days.
You need to choose a username and password when you register with ParlayPlay, along with some personal information including:
First name
Last name
Date of birth
Email address
Phone number
A verification code will be sent to your phone at the end of the signing-up process.
ParlayPlay require your information so they can verify your identity under KYC (Know Your Customer) rules, which protects against money laundering and is required by federal law.
ParlayPlay Bonus T&Cs
It's important to note the key ParlayPlay welcome bonus terms and conditions to ensure that you know exactly how to receive the offer.
Key T&Cs
The welcome bonus is only valid on your first deposit
All bonus money needs to be wagered within 30 days after being credited
The maximum bonus you can receive is $100
Bonus wagers can be on any contest
You only need to use the bonus money once to turn it into withdrawable cash
Other Promotions
Fantasy players at ParlayPlay can join Parlay Club which rewards users with free entries and exclusive contests.
Players level up in Parlay Club by entering contests and completing specific challenges. When you reach level two, you get a free ParlayPlay t-shirt!
Get started with Parlay Club
To join Parlay Club, you have to complete three mini challenges:
Verify your email address
Enter a Free2Play Contest
Refer 1 Verified Friend (who creates a verified account)
ParlayPlay Referral Program
ParlayPlay have a decent referral system that allows you to get $5 in bonus funds every time you refer a friend to the site.
Players you refer must create an account and play at least one paid contest for you to receive your $5, and the maximum number of people you can refer is five.
Having a referral program is always a plus of any DFS site but a cap of $25 is unlikely to attract too many.
Payment Methods at ParlayPlay
ParlayPlay offer just four ways to deposit money into your account and they are all available in each state where the DFS brand operates.
VISA, Mastercard and Discover are all only available via credit card, so if you don't have a credit card then using ACH/eCheck is your only remaining option.
You can only deposit to ParlayPlay in one of six specific increments: $5, $10, $25, $50, $75, and $100. On the plus side, a $10 minimum is low enough that the site will appeal to new and casual fantasy players.
Adding PayPal and debit cards would be ideal for ParlayPlay as their current methods are rather restrictive if you don't have a credit card.
As well, a $30 minimum withdrawal is high to a point of being off-putting and much higher than every other DFS site or legal US sportsbook.
Maximum deposits
You can deposit up to $500 per day, $2,000 per week, and $10,000 per month. If you live in Massachusetts, you may deposit up to $1,000 per calendar month.
How to Withdraw at ParlayPlay
The four deposit methods at ParlayPlay can also be used to withdraw money, but there is a caveat with using credit cards.
All withdrawals are processed back to the original payment method if the card has been used to deposit in the 90 days preceding the withdrawal request, up to the value of the deposit. Any remaining funds are then sent via ACH/eCheck.
Simply put, if you haven't used your card to deposit in the last 90 days then your only withdrawal option is ACH/eCheck. The full list of withdrawal options and the time it takes to process them is below:
ACH: 24 hours
VISA: 3-5 days
Mastercard: 3-5 days
Discover: 3-5 days
ParlayPlay Mobile App
ParlayPlay have a bespoke iOS app, which is available on the App Store, but Android users have to play in their mobile browser.
The iOS mobile app is simple to get around and enter contests on, with everything clearly marked including your live entries so you can see how they're getting on.
For Android users, ParlayPlay runs smoothly in mobile browsers, and is in fact a much better way to play compared to a desktop PC or laptop.
ParlayPlay is designed exactly like an app would be and makes it easy to navigate from sport to sport, with very short loading times and smooth transitions.
Unlike other DFS sites and sportsbooks, ParlayPlay doesn't have a menu which can be a bit confusing at first but it actually improves the usability of the site because you can easily get to every page you need.
Scrolling right to the bottom to find customer support and FAQs is a little annoying, especially when there are lots of contests available, but otherwise ParlayPlay offers an excellent mobile site.
Verify your location
Your location services must be turned on to play on ParlayPlay on your mobile or tablet. This ensures you are in a state where the site operates.
ParlayPlay Customer Support
ParlayPlay offer a full range of customer support options with live chat, email, and phone number all available. Whilst agents are knowledgeable, waiting times are lengthy.
During this ParlayPlay review, we attempted to contact live chat on several occasions and were advised that it would take 30 minutes for a response. This figure is much higher than many other operators. where responses are usually immediate or at least within 10 minutes.
After getting through to an agent, we found that they are able to give good responses that demonstrated knowledge of both sports and DFS so you can be sure that they will be able to answer your questions.
The FAQ at ParlayPlay is very detailed, though, so it's more than likely that the answer to your query is in there. There's also a search bar to make things even easier for you.
ParlayPlay customer support
| | |
| --- | --- |
| Live chat | Open 24/7 |
| Email | |
| Phone number | +1 (888)-680-0405 |
| FAQ | Detailed |
Daily Fantasy Sports at ParlayPlay
ParlayPlay is one of the newest daily fantasy sports websites and unlike traditional DFS operators, you only play against the house instead of other players.
There is also no drafting of players on ParlayPlay and no adhering to a salary cap. You are simply selecting up to five players based on specific stats to essentially create a parlay like in sports betting.
Contest payouts at ParlayPlay are set multipliers depending on how many players you choose for your entry, with the multiplier between 0.5x and 10x your fee depending on how many correct picks you manage.
ParlayPlay offer contests on football (NFL and College), basketball (NBA and College), NHL, MLB, UFC, and a wide variety of soccer leagues, ensuring there is something for everyone.
As well, you can select players from multiple sports in the same contest, so you could have two MLB players, a soccer player, and a UFC fighter all in one contest if you wanted to.
ParlayPlay fantasy sports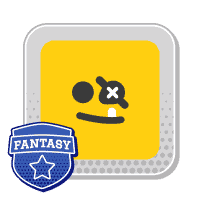 Fantasy NFL
NFL was not in season during the time of this ParlayPlay review and so no opinion can be formed.
Fantasy NFL
| | |
| --- | --- |
| Number of stats contests | No info |
| Biggest payout multiplier | 10x |
| Min/max entry fee | No info |
NFL Scoring on ParlayPlay
ParlayPlay keep NFL fantasy scoring simple, awarding points for basic stats. As you can't choose defenses or special teams, ParlayPlay only has fantasy points for offenses.
| Statistic | ParlayPlay points |
| --- | --- |
| Touchdown pass | +5 |
| Passing yard | +0.05 per yard |
| Intercepted pass | -5 |
| Rushing yard | +0.2 per yard |
| Rushing touchdown | +5 |
| Receiving yard | +0.2 per yard |
| Receiving touchdown | +5 |
| Fumble lost | -3 |
Fantasy NBA
NBA was in the off-season when this ParlayPlay review was conducted and so no information is available.
Fantasy NBA
| | |
| --- | --- |
| Number of stats contests | No info |
| Biggest payout multiplier | 10x |
| Min/max entry fee | No info |
NBA Scoring on ParlayPlay
NBA fantasy scoring on ParlayPlay is extremely basic, with no bonus points for things like making a three or recording a triple-double.
| Statistic | ParlayPlay points |
| --- | --- |
| Point | +1 |
| Rebound | +1 |
| Assist | +1 |
| Block | +2 |
| Steal | +2 |
| Turnover | -1 |
Fantasy NHL
NHL was out of season at the time of this ParlayPlay review and no opinion can be developed.
Fantasy NHL
| | |
| --- | --- |
| Number of stats contests | No info |
| Biggest payout multiplier | 10x |
| Min/max entry fee | No info |
NHL Scoring on ParlayPlay
NHL fantasy scoring on ParlayPlay is in line with other daily fantasy sports sites, although they do have the unique bonus of an extra point if a player is involved in a fight.
Forwards/wings/defensemen
| Statistic | ParlayPlay points |
| --- | --- |
| Goal | +3 |
| Assist | +2 |
| Shot on goal | +0.5 |
| Hit | +1 |
| Fight | +1 |
| Blocked shot | +1 |
Goalies
| Statistic | ParlayPlay points |
| --- | --- |
| Goal against | -1 |
| Save | +0.25 |
Fantasy MLB
ParlayPlay offer every MLB game with a decent range of stats available for each one, allowing you to create contests involving players from as many or as few games as you like.
Pitchers are included in ParlayPlay's MLB contests so you can choose from stats like strikeouts and hits allowed, as well as hitting stats like total bases and hits+walks totals.
Fantasy MLB
| | |
| --- | --- |
| Number of stats contests | 10 |
| Biggest payout multiplier | 10x |
| Min/max entry fee | $1/$25 |
MLB Scoring on ParlayPlay
MLB fantasy scoring on ParlayPlay is fairly in-depth, much more so than their other major sports, with every positive action earning points.
One thing to note is the winning pitcher receives six points, so make sure that you take this into account if your entry involves fantasy points.
Hitters
| Statistic | ParlayPlay points |
| --- | --- |
| Single | +3 |
| Double | +6 |
| Triple | +9 |
| Home run | +12 |
| RBI | +3 |
| Run | +3 |
| Base on balls | +3 |
| Hit by pitch | +3 |
| Stolen base | +6 |
Pitchers
| Statistic | ParlayPlay points |
| --- | --- |
| Inning pitched | +3 |
| Strikeout | +3 |
| Win | +6 |
| Earned run allowed | -3 |
Types of Fantasy Contest
ParlayPlay have just two types of daily fantasy contest, both of which are basic and easy to understand so you can just jump straight into playing.
More/less

Pick players that you think will score more or less than the projected total displayed. The total can be fantasy points or a specific stat such as strikeouts in MLB or touchdowns scored in NFL – the choice is yours.

Hit it

Choose two players from a game and predict how well they will perform from a projected stat/point range. Unlike more/less, you have to be more accurate with this contest type but you don't have to be exact.
Researching players, teams, and matchups is a key principle of fantasy sports, especially daily, but with ParlayPlay there's less to consider because you can only pick from a select few players.
This makes it good for new and casual DFS users because you only need to analyze a few players, and unlike on DraftKings and FanDuel, there's no chance of being beaten by a professional who spends hours researching.
One of the great things about ParlayPlay is that you can apply insurance to more/less contests, so you don't need all your selections to be correct. "All-in" means you need all picks to be right, whilst "Insurance" means you can get one wrong and still get a payout.
More/less All-In (all picks must be correct)
A 4-pick All-In contest will payout 10x the entry fee
A 3-pick All-in contest will payout 5x the entry fee
A 2-pick All-in contest will payout 3x the entry fee
Higher/Lower Insurance (one pick can be incorrect)
A 4-pick Insurance contest with 4 correct picks will payout 5x the entry fee
A 4-pick Insurance contest with 3 correct picks will payout 1.25x the entry fee
A 3-pick Insurance contest with 3 correct picks will payout 2.5x the entry fee
A 3-pick Insurance contest with 2 correct picks will payout 1.25x the entry fee
A 2-pick Insurance contest with 2 correct picks will payout 2x the entry fee
A 2-pick Insurance contest with 1 correct pick will payout 0.5x the entry fee
For hit it contests, insurance is automatically applied and you can still get paid out if your prediction is close.
If you get both correct then your payout is 6x your entry fee. If you get one correct and select the range that is next to the correct option, you get 2x your entry fee. If you select the neighboring range for both fighters, you get 0.5x your entry fee.
Hit It example
You can enter a Hit It contest using the strikes landed stat in a UFC bout between Thiago Santos and Jamahal Hill.
Pick from one of the following ranges for each fighter:
Santos: 0-33, 34-40, 41-47, 48-55, 56-62, 63+
Hill: 0-39, 40-47, 48-55, 56-64, 65-72, 73+.
What States is ParlayPlay Legal in?
ParlayPlay is legal in 26 states and District of Columbia, which is fewer than other DFS sites but still represents a significant portion of the US.
The table below shows which states ParlayPlay is currently allowed in.
| | | | |
| --- | --- | --- | --- |
| Alabama | Alaska | Arkansas | California |
| Colorado | District of Columbia | Florida | Georgia |
| Illinois | Kansas | Kentucky | Massachusetts |
| Minnesota | Nebraska | New Mexico | North Carolina |
| North Dakota | Oklahoma | Oregon | Rhode Island |
| South Carolina | South Dakota | Texas | Utah |
| West Virginia | Wisconsin | Wyoming | |
You must be at least eighteen years of age or older to play on ParlayPlay, except in Alabama and Nebraska where you have to be 19+, and Massachusetts where the minimum age is 21.
Do I Have to Pay Taxes at ParlayPlay?
You have to pay taxes if your net winnings totals $600 or more over the course of the year. ParlayPlay will send you a 1099 Tax Form via email if you have won $600 or more.
If you're not sure how much you've won, simply deduct your entry fees from your total winnings.
Consult with an accountant if you aren't sure how to fill in the 1099 or you are unsure how much tax to pay.
Is ParlayPlay Legit?
ParlayPlay is a legit and safe daily fantasy sports site that has operated online since 2021. Although it is new, you can be certain that it is secure.
ParlayPlay company info

| | |
| --- | --- |
| US licenses | AL, AK, AR, CA, CO, WDC, FL, GA, IL, KS, MA, MN, NE, NM, NC, ND, OK, OR, RI, SC, SD, TX, UT, WV, WI, WY |
| Other products | None |
| Non-US licenses | None |
| Responsible gaming measures | Deposit limits, contest entry limits, max entry limits, self-exclusion |

| | |
| --- | --- |
| Year founded | 2021 |
| Owner | ParlayPlay Inc |
| CEO | Florens Roell |
| Publicly traded | No |
DFS Alternatives to ParlayPlay
If ParlayPlay isn't for you then there are plenty of other DFS options to get stuck into.
Monkey Knife Fight works in a similar way to ParlayPlay in regards to contests, and there is a large number of sports available for you to enter.
If you're looking for more traditional daily fantasy, then DraftKings and FanDuel are the way to go as they run hundreds of contests across many sports, and as such offer much higher prizes than other sites.
Best ParlayPlay alternatives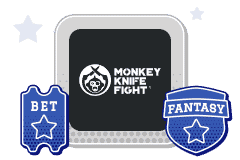 Lots of sports available
Easy to play
Only two deposit methods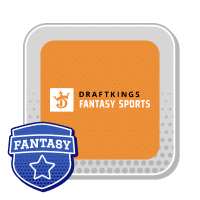 Biggest prize pools
Variety of contest types
Poor welcome bonus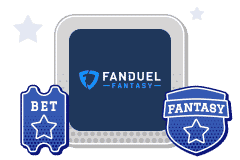 Appealing prize money
Excellent welcome bonus
Prioritizes high entry fees
Conclusion
ParlayPlay offers an exciting alternative to regular daily fantasy sports sites with fun contests that make it easy for beginners and casual players to get started.
You don't play against DFS professionals like you would on DraftKings and FanDuel and there's no need to adhere to a salary cap, but this does mean that payouts are significantly lower than on those sites.
The lack of bespoke mobile app does hurt ParlayPlay, though, and so does the fact that there is a high minimum withdrawal of $30 which could be enough to put people off.
Key features of the DFS site, both good and bad, can be found below:
ParlayPlay is easy to navigate and understand.
You only play against the house on ParlayPlay, rather than DFS pros.
There is an attractive welcome bonus of up to $100.
Only six sports are available for contests at ParlayPlay.
Payouts on ParlayPlay are much lower than on many other DFS sites.
FAQs