What are NFL Fans' Favorite Game Day Foods?
Sundays are about to get a whole lot more interesting as the regular NFL season returns. Pro football isn't just about the 60 minutes of on-field action though. Tailgating and food are central to the game day experience whether you're watching at the stadium, in a sports bar or in the comfort of your own home.
What is the perfect culinary accompaniment while watching an NFL game? Researchers at USBetting.org have surveyed 1366 NFL fans from across the US to find out the ultimate footballing food.
The survey also looked at the favorite places to watch games and how much fans are prepared to pay for a classic game day dining experience compared to previous seasons.
NFL Fans' Favorite Game Day Food – Wings are King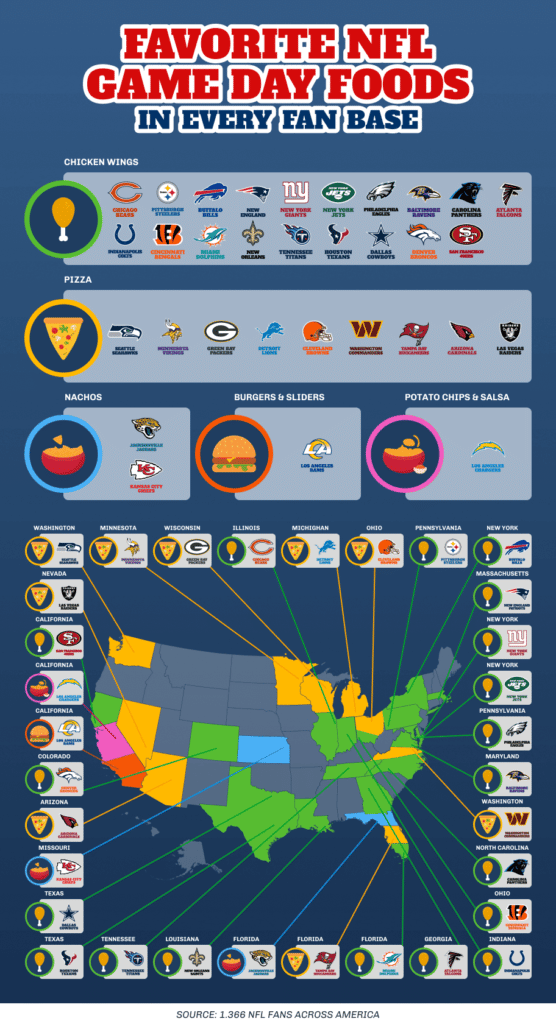 Yes, chicken wings are now significantly cheaper compared to past years. That said, the foodie equivalent of the Vince Lombardi Trophy chosen by NFL fans are – unquestionably – chicken wings (28.6%). This will be the most consumed game day food for the new season. A favorite followed by pizza (21.8%), nachos (13.7%), burgers and sliders (13.7%). Only 1% choose fruit and sweets.
The survey also found a gender split when it comes to popular game day foods. Female football fans are 15% less likely to go for chicken wings and 27% less likely to choose burgers and sliders compared to men. Conversely, women were 77% more likely to opt for nachos than the men polled.
Chicken wings are the most popular option, chosen by fans of 18 out of the 32 NFL teams. The 18 teams include the fans of Dallas Cowboys, Denver Broncos and New England Patriots.
The defending Super Bowl champion L.A. Rams were something of an outlier, being the only team whose fans rated burgers and sliders the number one choice. There must be something about the Californian taste buds as the only team where the chips and salsa was most popular was the L.A. Chargers.
75.5% Of NFL Fans Are Watching The Game Days At Home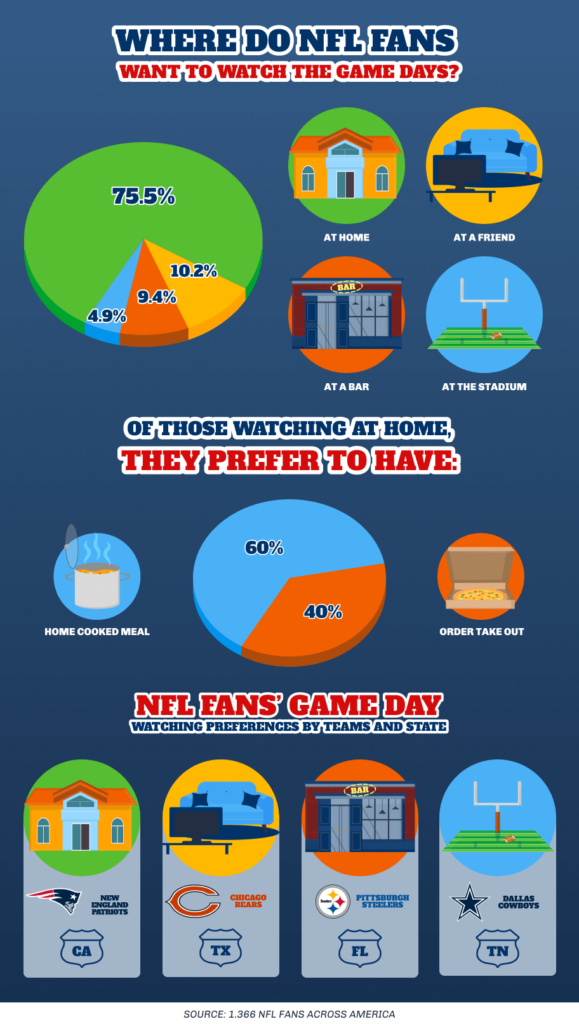 When asked respondents where they prefer to watch the NFL action this season, three quarters said they will be watching the games from home, while 24.5% prefer larger social gatherings, such as watching at a sports bar or the stadium. And that is the case for women, who are more likely than men to cheer on their team at a sports bar (43.1%) or a friend's house (19.7%) compared to male fans.
Of those home viewers, a whopping 60% polled prefer to cook their own game day food, with the remaining 40% preferring a takeout. More men preferred a takeout compared to women.
Pittsburgh Steelers enthusiasts topped the poll for the most regular takeout diners with Green Bay Packers fans most willing to cook their homemade favorites.
Interestingly, female fans watching the game at home might be less likely to opt for takeout, but are prepared to spend more money on food on average than men ($51.99 female compared to $38.67 male).
NFL Fans Plan To Spend 33% More On Game Day Foods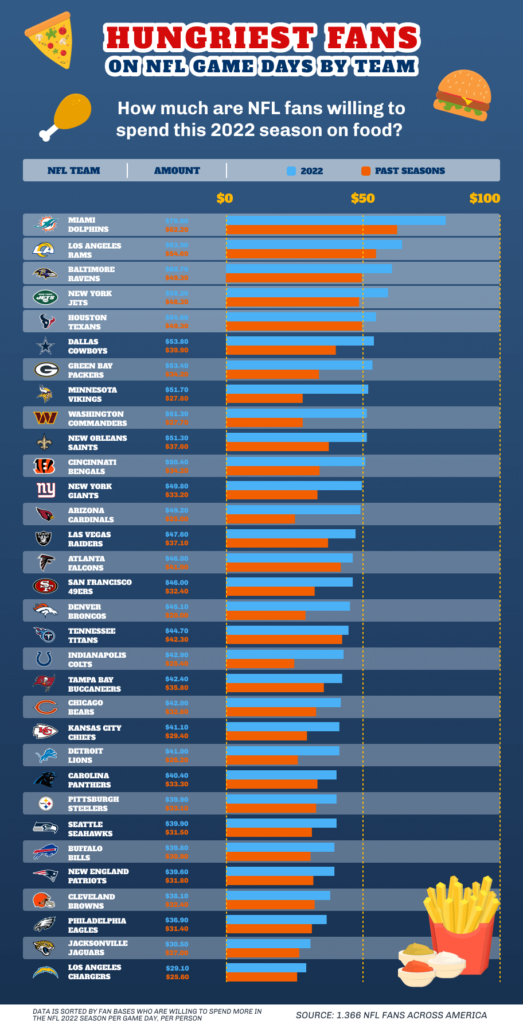 The inflation has increased considerably in the past months, and it's predicted to increase even more in the months to come. But that doesn't seem to bother the NFL aficionados.
According to the survey, fans are prepared to spend almost one third more on game day food this year when compared to the 2021 season. That equates to a game day spend of, on average, $46.90 per person, rather than the $35.60 average spend last season.
Devotees of the Arizona Cardinals (↑$24.20), Minnesota Vikings (↑ $23.90) and Washington Commanders (↑ $23.70) are expected to increase their game day food spending the most this season. Those cutting more on costs are fans of the Jacksonville Jaguars (↑ $3.50), L.A. Chargers (↑ $3.50) and Tennessee Titans (↑ $2.30).
Overall, NFL fans who prefer to attend games at the stadium this year are prepared to spend on average per game day $64.54 on food (excluding the game day ticket price) compared to $50.45 in previous seasons.
Those watching the games at a friend's place are willing to spend less than the stadium goers, with an estimated average spend of $45.77, up from $36.70 last year.
Fans watching games at home are expected to spend $45.38 per person, per game day, a rise of $11.74 on the 2021 average spend.
Methodology
The survey polled 1366 NFL fans across America in September 2022. The goal was to discover what NFL fans want to eat this season, where they prefer to watch the game, how much they are willing to spend this season compared to past seasons, as well as other food patterns and behaviors. For media inquiries, please contact [email protected].
Fair use statement
Media organizations that want to use the information from this survey are welcome to do so as long as they include a link to this study and credit USbetting.org.